Passion To Inform, Reform And Impact Society Through Films Inspired Me To Join Nollywood-- Onyibor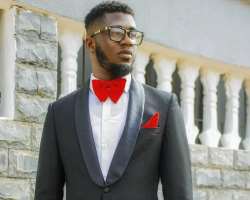 Sopulu Onyibor is an uprising Nollywood actor, filmmaker and producer. In this exclusive interview with IFEANYI NDUKWE, the graduate of Theatre Arts and Film Studies from the Nnamdi Azikiwe University, Awka bares his mind on his journey to stardom, challenges and prospects. Excerpts..
Tell us more about yourself?
Like you already introduced me earlier, l'm Sopuluchukwu Godswill Onyibor. I am a filmaker and philanthropist. The last child and son of Mr and Mrs Onyibor. We are four in the family. I gracefully finished my B. Arts from the prestigious Nnamdi Azikiwe University.
If I recall my growing up was quite interesting and peaceful.
What is the inspiration behind your movie project?
I have done a couple of films. The latest is Stay Dead. Filmmaking means everything to me. I eat film. I dream film. I speak film. Inshort, my name could be revised to the word, filming. For instance, the movie 'Stay Dead' is very emotional and inspirational. I gave it my all. I know I would do more films in the future and I anticipate for better storylines. I am inspired by passion and love for the art to hold my audience ransom with my stories.
What inspired you to choose this path?
I'm inspired by my childhood experiences. While, growing up I always love to be on screen. Those days, I had engaged in broadcasting, drama in church, and other debates at secondary schools. When it was time to further my studies,l thought of reading Mass Communication but during a career talk l discovered there was a department of Theatre Arts Studies. I enrolled and got admitted and that was how it all began.
How has the journey been?
( Sighs) It has been tough. Although I had officially kicked off my career in 2014. But endeavoring in production would take me some few more years to achieve. However, I am proud of myself taking a step towards reaching out to my goals.
Do you have particular kind of movies you do?
I don't have a particular kind or genre of film that I do. As a film maker, I don't stereotype. I believe as a good ambassador, its my responsibility to embody the whole total craft together.
However, for now, I don't do Epic films due to budgetary demands.
Kindly share with us an experience you had in respect to your Pad A Girl project?
Pad A Girl project is an inspiration that came into vision early last year, 2021. As a discrete and disciplined person, I had to take courage to do it regardless of the circumstances at that period. It wasn't easy raising funds, getting sponsors and convincing people to key into the idea.
This year's was a massive success. We were able to get the full support of the state government and individuals to assist in making the vision reality. For that, I'm most grateful to God and every one member of my team.
Describe some of your major challenges and how you were able to tackle them?
As humans, we all have challenges. One of my stronghold is my consistent faith in God. I always refer myself as a Son of Grace. On various occasions, I have had obstacles that elude my person. I sit back, take a deep breath and stand up with a firmer attitude to overcome. No matter the challenge whether finance or manpower, it gets solved. I can't fathom how it happens. It just happens miraculously.
*Have you been involved in any social responsibility to the society?
We love to hear your experience.*
Yes, I have been practically involved in several social responsibility projects. Each time l'm informed of a friend talk of any social welfare, I ensure to participate effectively.
If you were not on set or location. What do you do to relax?
(Smiles) If am not filming, I read and enjoy solemn moments, music specifically. More times, I play snooker and visit the cinemas to watch movies.
Any upcoming projects?
Of course there is. Though I wouldn't want to discuss them here for now. However, expect the best and prepare to get served.
Were there moments you felt like quitting?
Any endeavor or career path you choose and you don't face challenges that make you feel dismay or powerless, then I must tell you, you may not be on the right path. Yes, l have sometimes felt like quitting but I always pat myself on the back, 'Sopulu you have come too far to go back. Everything is gonna be fine.' I pick up my tools and head back to work.
What makes your films distinct from others?
Well, as an upcoming director I do films differently. As an experienced set manager, I see the faults and flaws in a set and other directorial issues. So when I get down to my table to do a movie. I bet myself to avoid my audience to complain of those inadequacies. Personally, l start from a quality storyline, modernised equipment and a close relationship with my crew.
Any advice to aspiring producers and actors?
All I can say is this, the journey is not an easy one. Keep learning, don't relent, never give up. To the producers, pay your actors and treat them well so that people will be eager to work with you any other time. Make your set a conducive environment for the work to flow seamlessly.
I always advise you to be your best version. Don't copy anyone. Be real, focus and anticipate greatness. Thanks