Ali Nuhu, Others Pen Emotional Tributes To Late Colleague, Nura Mustapha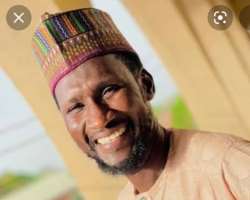 The cold hands of death visited the Hausa branch of the Nigeria film industry, Kannywood.
Nura Mustapha, a movie director was confirmed dead by his colleagues late yesterday.
On this note, veteran actor, Ali Nuhu and other family, friends and fans of the deceased have since registered their emotions with condolence messages to the bereaved families.
Mustapha's demise was said to have come as a surprise to many as the film director reportedly rested in his bed a night earlier looking hale and hearty.
According to customs and traditions of the lslamic faith, the deceased was buried in its accordance.
In his tribute, Baba Sheik said: "Nura Mustapha was very healthy yesterday and today until his death hours ago. Innalillahi wa inna'ilaihi Raju'un. '
In a post on his Facebook page, Ali Nuhu said, "May Allah have mercy on Nura Mustapha."
Another actor, Lawan Ahmed said, "Innalillahi wainnailaihirrajiun May Allah accept the life of Nura Mustapha who is Director of Izzar. May Allah forgive his shortcomings amen, may Allah make us die with faith when our time comes amen."
Zarah Abdullahi writes, "Innalillahi wa'inna ilaihirraji'un Allah has given the director of the film Izzar so Director Nura Mustapha who is dead may Allah have mercy on you and forgive you."
Mushin Ibrahim penned
"Waye's death is a significant loss to Kannywood. I believe he's the most prolific director today. May Allah forgive his shortcomings and ours, main."
Mustapha was the Director of the Hausa educational series,' Izzar So.'