Mama G shares more vacation photos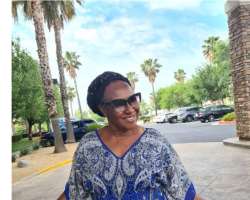 'Have a great day. ' That was the post that followed the captivating pictures shared by veteran Nollywood actress, Patience Ozokwor aka Mama G.
Mama G attracted people's reactions on Instagram after she shared photos of herself without make-up. The legendary actress was all smiles in the photos as she appeared in her natural state without applying any make-up to her face. The photos she shared on Instagram caught people's eyes, and they reacted quickly to them on her Instagram page.
The evangelist who is in her early 60s is looking refreshed and glowing. Recall she had shared a lovable picture with her lookalike daughter sometime this week.
Some of the people who came across the photos were blown away by how good she looked in her natural facial appearance, while others who admired her blue Abaya outfit praised her for her decent dressing.