Breaking News: Nollywood Actor, TC Okafor Survives Accident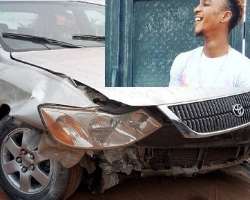 Nollywood actor, TC Okafor, who is sometimes known for his bad boy roles in movies, has just survived a near death accident.
Although the actor did not give details of how the accident but his Toyota car was damaged as he was left with no choice but to come out to thank God for sparing his life.
Industry colleagues have been praising God on his behalf as they did not record sad news in few hours as they are trying to come to terms with the death of actress, Moji Olaiya.
It seems the actor was rerunning from a movie location when the incident took place along a very busy road.