SOUTH AFRICA'S GOSPEL GIRL BAND, GRACE GALAXY NOMINATED TWICE AT THE 2012 BEFFTA AWARDS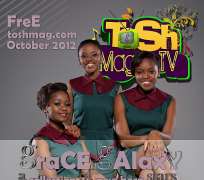 Without a debut music album but with only 'live' performances, Grace Galaxy was nominated twice at the 2012 Black Entertainment Film Fashion Television Arts awards based in London, United Kingdom. In the Best Gospel Act category, they were nominated alongside 2011 MOBO Best Gospel act winner Guvna B, Multiple award winner - Muyiwa and Riversongz, London Community Gospel Choir and in the Best International act category alongside fellow South African Zahara (who is a 8 time South Africa Music Award winner), Camp Mulla from Kenya (2012 BET Best International act - Africa category nominee) and Nigerian Dbanj (5 time MTV award winner, BET award Best African act winner).
Grace Galaxy is a South African gospel R & B / Jazzy girl band made up of Cheryl Nombulelo Nokukhanya Zondi (16), Cindy Nolusindiso Gwama (20) & Dolly Vuyiseka Nondlazi (20). They became a group officially on 18 November 2011 in Secunda, South Africa under the mentorship of Rev. Tim Omotoso. The group was first formed by Associate Pastor Mphatisi who acted under the instruction of Rev. Omotoso to initiate a music audition in Port Elizabeth back in October 2011. It was through this auction that Grace Galaxy was given birth to.
The girlband whom Pauline Long the Founder of BEFFTA Awards United Kingdom labelled as "blessed role models" were given the name – Grace Galaxy by Rev Tim Omotoso and since then he composed 102 brand new songs for the group, with the girls composing another 3 to make a total of 105 songs in less than a calendar year.
Grace Galaxy is the second phase of the Youth Empowerment Project at Tim Omotoso Global Outreach (T.O.G.O); following their seniors, 'Simply Chrysolite' who are the first phase of the Youth Project in South Africa that is designed to turn the hearts of men back to God and give the youths a better future. Simply Chrysolite has won 6 awards (5 International ones) within the space of 3 years and Grace Galaxy is closely following their footsteps.
This unique girl band has been receiving great reviews from the press worldwide. Buhle Mbonambi of the Sunday Tribune really likes them because Grace Galaxy are nice and different; Nonhlanhla Mkhabela of the Isolezwa Newspaper believes they are a good live performing talent; Camara Moodley of The Rising Sun applauds Grace Galaxy believing they are destined for fame and success and Shoggy Tosh the Publisher of The Official Stars Homepage Magazine & TV, United Kingdom said this about them, "Grace Galaxy is a massive, gravitational mind blowing gospel girl-band consisting of 3 unique singing innumerable stars. They blow my mind every time I hear them minister!"
Nombulelo Nokukhanya Zondi hails from Evander, a town next to Secunda in South Africa and she loves singing, listening to music, reading and writing songs. Zondi joined Jesus Dominion International in 2010 (the church arm of Tim Omotoso Global Outreach) after a youth leader took the whole youths to the church. Zondi loved the environment and atmosphere and decided to stay put in the ministry. Cindy Nolusindiso Gwama is from Port Elizabeth in South Africa and also loves singing, listening to music and dancing. Cindy joined the ministry in 2011 after being invited by her aunt and Dolly Vuyiseka Nondlazi also hails from Port Elizabeth in South Africa and likes listening to music and singing. She was invited to the ministry by her step mother, joined the Hossana Voices (a mass choir in Jesus Dominion International) before finally joining Grace Galaxy.
Grace Galaxy has within a year travelled the length and breadth of South Africa – performing at various concerts including the Secunda Indoor Crusade, Cape Town Indoor Crusade, the National Holy Ghost week 2011 in Durban (all National & Regional meetings under the Tim Omotoso Global Outreach) whereby performing to over hundreds of thousands audiences.
Grace Galaxy are currently recording their debut album and many of their singles like, "Have mercy on me Lord, Ngiyamthanda uJesu, Ndaweni Ebanzi, Saviour, Let's give him praise, Jesus, Calvary, Be still my soul and Years I spent in vanity" are turning heads all over Europe, Asia & United States of America through the Just As I Am program of Tim Omotoso Global Outreach. Enjoy their music online via their myspace or reverbnation account by searching for Grace Galaxy. Otherwise visit their webpage – www.timomotososales.org/gracegalaxy.html.
To vote for them at the 2012 BEFTTA awards, kindly visit www.beffta.com/voting and chose them as the Best Gospel act and the Best International act. You can vote via a computer, laptop, smartphone or ordinary phone by filling An online form with your name and email. Voting started on 7 October and ends on 21 October, 2012. The 4th ANNUAL BEFFTA AWARDS UK IS ON 27th OCTOBER 2012 during the Black History Month at The Hippodrome, North End Road, Golders Green, London - A strictly 'invite only' event.