Bimbo Akintola talks up her role in Hoodrush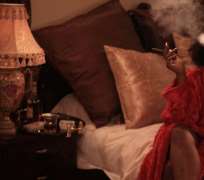 One of the most consistent Nollywood actresses in over a decade, the delectable and talented Bimbo Akintola has come out to expressly talk about her role in the yet-to-be-premiered musical flick, Hoodrush.
Hoodrush is a musical movie which tells the story of two brothers, Shez (O.C Ukeje) and Tavier (Gabriel Afolayan), the struggles they face and surmount before they rose to prominence. The movie features Bimbo Akintola, O.C Ukeje, Gabriel Afolayan, Bolanle Ninalowo, Ifeoma Agu, Lee Lee Byoma and others. The movie is directed and produced by Dimeji Ajibola, the Technical Director at Flipsyde Studios.
Bimbo Akintola is not a stranger to acting and Nollywood as a whole, the talented actress came into public consciousness after starring in Owo Blow, Out of Bounds where she starred alongside prolific actor, Richard Mofe-Damijo and The Mourning After, a movie that sheds light on the pains of widowhood.
''For those of you who haven't heard me sing before, you will see a bit of that in Hoodrush. Also, I think O.C Ukeje is such a brilliant actor, I think he is going places so people should watch out for him and my ''fake''daughter, Chelsea Eze , she is such a talented actress too, my role in Hoodrush is certainly different from the other flicks I have done '', Bimbo Akintola enthused.
Speaking more on the movie, Hoodrush, the amiable actress said ''it was great working with Dimeji, the producer of Hoodrush because he is the kind of producer that listens and when you listen to people you work with, you will go places, I am saying this because I have come across many producers who are not good at what they do, they just assume everything would sort itself out as soon as they get on set and things are not done that way. There are some that send you scripts and you can't even read the first page, I have about 15 scripts like that in my apartment, this is so because the producers weren't professional enough in the way they do things''.
When asked if she has friends in the industry, she said ''I pick my friends from the heart, I have actors who have been my friends for 20 years and we are still going strong, it is like marriage, if you don't have the right partner, there would be trouble. If you have wrong friends, they would never tell you when you are going wrong. I love Tonto Dike, I met her once and I think she is a good person, I love Omotola too, I would say she is my friend, we don't see or talk everyday but when we do see and talk, it's a moment to treasure, Stella, Keppy are also my friends amongst others''.