Scores Injured As Emir Of Fika Escapes Death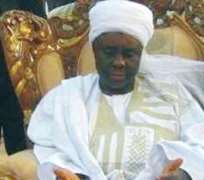 DAMATURU, August 04, (THEWILL) – At least 15 persons have been confirmed to have suffered serious injuries in Friday's attempted killing of the Emir of Fika and chairman of Yobe State Council of Chiefs, Dr. Muhammadu Abali Ibn Muhammadu Idrissa, by a suicide bomber-initiated attack at the Potiskum Central Mosque.
The suicide bomber was few metres away from the traditional ruler when he detonated an improvised explosive device (IED) just moments after the Friday prayer.
Salisu Musa, an eyewitness, said the Friday prayer was still on when the unknown person was first seen sitting among the Emir's entourage.
"He was asked to leave the place. But immediately after the prayer, the same person was sighted rushing towards the Emir, and the Emir's Police orderly quickly rushed to push him away," he said.
"Though the Orderly was able to save the Emir, he was not so lucky, as the bomb exploded immediately the man was pushed and he got injured on his arms, alongside a dozen other people."
After the blast, the corpse of the bomber littered the floor, having been torn into shreds. Victims, who were rushed to the emergency unit of the General Hospital, Potiskum for treatment, numbered at least 15. Some other people who sustained minor injuries went home to tend to their wounds.
An aftermath of the latest attack is the rise of tension in Potiskum town, with many expressing displeasure with the attack.
"It is very unfortunate for a suicide bomber to attack his fellow faithful on a worship ground in the month of Ramadan. This is a devilish act and God will punish the perpetrators," Adamu Abdullahi, an Islamic cleric said.
Boko Haram, the Islamic Sect suspected to have orchestrated the attack, had written to journalists in Maiduguri only last Tuesday, saying that, in its struggle, it would only kill government functionaries, security agents, Christians and "anyone who pretends to be a Muslim but engages in assisting security agents to arrest us."