Mimiko Justifies Mandate as Ondo State Governor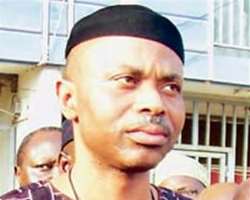 His Excellency Dr Olusegun Mimiko
His Excellency Governor (Dr) Olusegun Mimiko of Ondo State has clearly made enviable and outstanding records to be reckoned with, being the first governor that was produced by the Labour Party in the Nigeria political history.
His first one hundred days in office after years of legal battle before his mandate was restored in February, 2009 has however, brought succour to the majority of Ondo State indigenes and this has ostensibly afforded him (the governor) another rare achievements to his credit as an unparallel statesman.
In a quest to set the records straight Mimiko boldly cautioned the sacked Governor of the State, Dr Olusegun Agagu over snide comments he has been making in the media on the finances of the State, saying that Agagu should cover his face in shame given the terrible State he left the State, particularly the state's financial records.
It is no news that Agagu left the State Government house after he received his sack news in a hurry on Monday, February 23 2009 sequel to the judgment of the Justice Umar Abdullahi led Court of Appeal which nullified his purported victory in the April 14, 2007 elections and declared Dr Olusegun Mimiko as the duly elected governor of the State had in recent times commented on the amount of money he left in the coffers of the State. Specifically, Agagu while saying that he left N20bn in the account had disclosed that Dr. Mimiko planned to renovate the State Government House with a whopping sum of N1.9bn.
But in his reaction, Dr Mimiko while saying that Agagu's outbursts were borne out of desperation and a fly in the ointment posture given the quantum of laudable projects that his administration has embarked upon in just 100days as against his lackluster performance while in office, insisted that Agagu lacked the moral right to cast aspersions on his administrations given the mess he left the State in.
In the information made available by Chief Press Secretary, to Governor Mimiko Mr. Kolawole Olabisi, which described Agagu's outburst as uncharitable, mischievous and cruel and done in a bad taste all in his desperation to cast aspersion on his administration noted that he would not be distracted from his set goals of giving the people of Ondo State the much needed dividends of democracy which has eluded the State under Agagu's inglorious tenure of office.
According to Olabisi's statement: "Mr. Governor is a man of integrity. In this era of global economic recession, if he has N1.9bn, he will definitely not expend it on the renovation of the Government House but on projects that would impact positively on the lives of the people. Anyway, that was the hallmark of Agagu's regime-to waste money on white elephant projects while the people went to bed with rumbling stomach. But such frivolities would no longer hold in our dear State again; at least not under Dr Olusegun Mimiko.
"And contrary to the insinuations by Agagu that he left the Government House in a habitable condition, the truth is that the entire Government House as of today is not only an eyesore but a parody of who Agagu is despite his public posture. Even his kitchen where food was being made is like a pigsty; no sane person can eat anything that emanated from there. The Governor's Lodge is not fit for habitation yet Agagu glibly claimed that he left it in a neat condition nothing is farther from the truth than this and we have conducted media men round this place and will still welcome more to come and see things for themselves in order to put lie to Agagu's statement that he left a habitable Government House."
Governor Mimiko's image maker also made it to be of public knowledge that Agagu was only joggling figures of how much he left in Ondo State's coffers to suit his mood:
"It is gratifying to note that Agagu's hen has come home to roost. Initially, he had hinted that he left over N50bn in the coffers of Ondo State, now one is happy that this money is now N20bn which according to Agagu is made up of N10bn in withdraw-able funds while the rest are in some non-descriptive accounts.
"Dr Mimiko will in a matter of days hence address the State House of Assembly and the people of Ondo State on the real situation of the State's accounts and until then, we will not be stampeded by those who for six years ruled us with impunity, those who never cared for the people, those who now attempt to stigmatize a legitimate government that is out to pull the State up by the bootstrap out of the slough they had helped in pushing the State in. Enough of this fly in the ointment posture, Dr Mimiko and his team will not be distracted. Rather, Agagu should hide his face in shame because what he spent two years planning for in his now infamous Road Map to Progress blueprint is what Dr Mimiko has not only done but surpassed in a mere 100 days and by the grace of God, Ondo State under Mimiko will move to the next level," Olabisi cleverly affirmed.
Nigerians (through Governor Mimiko) can now abundantly have a feel and look of how modern democracy should be practiced; people can now enjoy practically the dividends of democracy in Ondo State despite the meager allocations that is coming from the federal purse and funds that are internally generated. Without mincing words the volume of performance/achievements within the spate of one hundred days to the credit of Mimiko cannot be compared with the successive governments in Ondo State especially that of Peoples' Democratic Party.

Emmanuel Ajibulu is the representative of modernghana.com in Nigeria with the mandate to cover politics and entertainment newsworthy events.

[email protected]

+2348023660770