Fuel Subsidy Scam: Adoke Orders Withdrawal Of Charges Against Four Suspects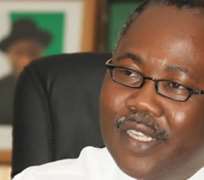 LAGOS, July 31, (THEWILL) – Acting on the orders of Mohammed Bello Adoke, the attorney general of the federation and minister of justice, the Economic and Financial Crimes Commission (EFCC) has withdrawn charges of conspiracy and fraud in the payment of petroleum subsidies levelled against four people.
On Tuesday at the Lagos State High Court, in Igbosere, Lagos, EFCC counsel, Mr. Rotimi Oyedepo said he had been instructed by the AGF to withdraw the charges.
"We have an information (a charge) dated July 20, 2012 before this court. I have the instruction of the attorney general of the federation to withdraw this information," Oyedepo told the court.
"The information has not been served on the defence. I urge the court to strike out the charges."
Justice Samuel Candide-Johnson struck out the charges, as requested.
"At the instance of the prosecution, the information having been withdrawn is struck out," he said in his pithy ruling.