'My Ex-Wife Allowed The Devil Use Her'--Hon. Rotimi Makinde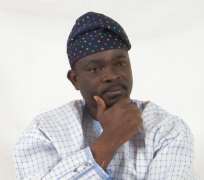 Hon Rotimi Makinde representing the Ife Federal constituency of Osun State at the National Assembly Abuja needs no introduction. He has been a frontline Artist, Hotelier and one time top NNPC shot before he voluntarily retired into active politics and won the seat to represent his community Ile Ife. Makinde, one of the close Lieutenants of Ogbeni Rauf Aregbesola, the Executive Governor of Osun State, spoke on a number of issues, his experience so far in the House, fuel subsidy probe and finally on the rumor concerning his marital status. Excerpt
What has been your experience so far?
My experience has been so far interesting and very challenging, but I give God the glory that I have been coping and learning very fast. I became the Deputy chairman Human Rights of the House Committee and that really exposed me fast to the rigor of legislative duties. I am also a member of many other standing committees of the House which includes Petroleum Downstream; Finance; Culture and Tourism etc and to the best of my ability, I hope to create reasonable impact to justify the confidence my people repose on me.
Can you comment on the subsidy probe?
It has come and gone, I was personally co-opted into the committee by Hon. Farouk Lawan. I guessed based on my 20 years experience in the Oil industry, I have no regret serving the committee; till today I stand by the report.
What is your view on Farouk Lawan?
He is somebody I love and respect so much, he is a very senior ranking member of the House. I always call him 'Four-Star-General'. It is very unfortunate that this news around him is happening. The House is very committed to the general wish of Nigerians and to do only those things that will promote unity and progress of our dear land; with every seriousness, the House demonstrated that. We met on an unprecedented day, a Sunday while on recess; we sat and resolved to set up the ad hoc committee to unravel the mystery behind the fuel increase that almost crippled the country to stand still. It is on record that the likes of myself spoke extensively on that day to condemn the hikes and demanded an investigation to ascertain the actual subsidy as alleged by the Federal government. In my patriotic manner, I volunteered to work with the committee and I have no regret.
Do you confidence in the house leadership?
I have absolute confidence in them, Nigeria should not forget that for the first time, we at the 7th Assembly chose a popular person to lead us regardless of pressure and intrigues as done in the past. The man, Aminu Waziri Tambuwal whom I had known before my election having schooled in Sokoto State, is a man of honour. He is doing his best to justify the confidence we repose on him.
On a more personal note now, what is your reaction to the news that you parted with your wife shortly after your inauguration as a member of Federal House of Representatives?
This is far from the truth.
Are you saying your wife known as Bolaji Makinde is very much under your roof?
Well in the actual sense, we parted due to some irreconcilable differences. Let me also correct this impression that I parted with her after attaining my new status. This is not true and I am sure those who are very close to us as family know the truth. She voluntarily packed out of my house in October, 2010.
Let us put the records straight. Is Bolaji Makinde still your legal wife?
Bolaji remains the mother of my lovely kids.
Will you be kind to share your marital experience with us?
Let me be quick to let you know that I am not prepared to talk about Bolaji. She remains the mother of my kids, we were together for 17years and it would be improper and unsocial for me to speak evil of her at least in the overall interest of the innocent children. Marriage had taught me lot of lessons, I passed through hell but God has compensated me.
In the past, you have granted several interviews and pour much encomium on this your ex-wife, you celebrated her and described her as the jewel in your life, the pillar, just to give the public the impression that you were very much in love with her (cuts in)
You are very much right my brother, I was very much in love with Bolaji Abiose. We were together as husband and wife until devil crept in and she gave room to the devil and finally fell for it. It is on record that she voluntarily opted out of our matrimonial home a month before her 2010 birthday and as God would have it, God compensated me with the victory of Governor Rauf Aregbesola on her birthday and again five months later, I became a Legislator and a Member of House of Representatives. My case is settled.
Can you tell us what you mean by irreconcilable differences?
I have resolved not to talk about this. I would be ungrateful to God if I say I have not reaped from the marriage. I thank God for all these my beautiful and lovely kids through her. I am not prepared to spoil their joy and I am seriously determined to give them the best of everything they so desire; and to their mother, I have forgiven her because I want God to forgive me and my sins too.
Is there any hope of reconciliation?
Reconciliation! Bolaji voluntarily parted way and packed out of our matrimonial home and I think the Holy Scriptures and our culture also condemn such act. Besides, do you think she could bury her pride in packing back? He or she who never sympathizes or rejoices with you in time of sorrow or joy is a Sadist; Until now, I have refused to speak on the story but it became pertinent to correct negative comments that I opted out of the relationship upon attaining my new status . Well in actual fact it happened before my party got victory in the court which paved way for my easy emergence as a committed member of my party. The sad experiences made me to dread women; my emotional feeling was dead towards daughters of Eve. I have since locked up my heart and warned it to restrict itself to pumping of blood and not to love again but alas! I must confess, I hope to forge ahead. My kids especially the eldest wants me to live a descent life and so I have humbly submitted myself to the will of God to prevail on my next line of action.
So, do we expect a bell to ring soon?
God is the deciding factor, beside am yet to overcome the associated shock.