Oshiomhole's Victory, A Win For Democracy, Says Atiku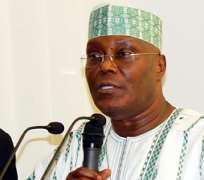 ABUJA, July 15, (THEWILL) – Democracy is the "greatest winner" in the emphatic victory of incumbent governor of Edo State, Adams Oshiomhole at Saturday's gubernatorial poll, former vice president, Alhaji Atiku Abubakar has said.
Atiku made the observation in his congratulatory message to Oshiomhole, released by his media office in Abuja on Sunday. He described the 'comrade-governor's' re-election as a clear confirmation of the satisfaction of the people of Edo with his first tenure in office.
"It is becoming increasingly clear that Nigerians are ready to take full advantage of democracy as a system of representative government, following the way in which the election was monitored by Nigerians via the social media platforms," Atiku said in the statement, also commending citizens of the state for their discipline and tolerance while expressing their choice in the election.
"The way and manner the people of Edo State conducted themselves at the polling booths in weekend's governorship election has further bolstered my confidence that democracy has indeed come to stay in Nigeria."
He similarly had words of commendation for his party's candidate in the election, Major General Charles Airhiavbere (rtd), who lost by a wide margin. He praised Airhiavbere for making himself available "as a formidable democratic alternative in the Edo election," encouraging him to remain undeterred by the loss, and take it in good faith, as the election was never a do-or-die affair in the first place.
"The Edo loss is not a referendum on the PDP, as some may want to posit, but it offers unique opportunity for the ruling party to reflect on the way forward," he said.
"It is imperative, more than ever before, for the PDP to retool the ruling party as the only viable platform for achieving the socio-political and economic aspirations of all Nigerians."
In addition, Atiku implored the Independent National Electoral Commission (INEC) not to rest on its oars but to use upcoming elections to perfect its processes ahead of the 2015 general election.