Echoes From Rio: Taking Development to the Next Level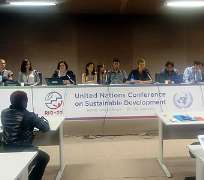 SAN FRANCISCO, June 26, (THEWILL) - In a bid to ensure sustainable development through grassroots solutions championed by young people across Africa, and combating Climate Change through innovative projects and continental day of action, Zero Carbon Africa (ZCA) implemented a project in Rio de Janeiro, Brazil, at the United Nations Conference on Sustainable Development (Rio+20) to increase the quality of youth participation at the Earth Summit.
Tagged Echoes from Rio, an online radio programme, blogging and video reporting of activities happening at the conference, the initiative, solely to increase the quality of youth participation at the Summit, is a coalition of youth-led and youth-focused organisation comprising Youth Vision Alliance Network (YVAN), HACEY's Health Initiative, HEDA Resource Centre and Centre for 21st Century Issues, who all represented Nigeria in Brazil.
Speaking on behalf of the Team, the executive director of YVAN, Mr. Zaid Shopeju noted that, in terms of sustainable development and climate change issues, the Nigerian government joined in the unified African position to tackle the challenges and negotiate on human and technological abilities that would exploit the underlining opportunities.
In line with this, Shopeju went further to say that though the country is present at the negotiation stage, it has not been as active as other countries as it concerns youth representation and participation in the process.
"There has also been a lack of participation of the African youths in meetings held by major groups in the conference. We have also gotten reports of difference in priority of issues in negotiations between the African regions, and the developing and developed nations," he said.
"One of the major issues that held negotiations was the transfer of technology from developed nations to G77 countries, and the means of implementation in the zero draft outcome document. As the negotiations have come to a close, African countries have shown that though they did not get all they brought to the table, they are satisfied with the outcome."
He said the project interviewed youths around the world on their perception of sustainable development and what they expect from the process.
"They also gave their aspirations for youths in the coming green economy, some of which include increased youth participation in the drafting and implementation of the future we want.
"It is important that young people who will bear the brunt of most of the decisions made at the summit must make their voice heard, thus their involvement.
Apart from Shopeju, other members of the team are Robinson Rhoda, administrative director HACEY Health Initiative; Isaiah Owolabi, project director, HACEY Health Initiative; Titi Kazeem, of the Centre for 21st Century Issues; Abiodun Odunuga, project manager YVAN; and Adeola Atinuke, HEDA Resource Centre.
Written by Adenike Ashogbon