Top Model of Colour finale in The Gambia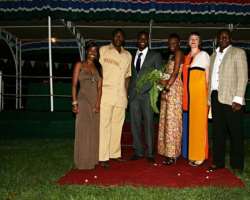 History in the making hit the shores of Gambia this December for the annual UK modelling competition, Top Model of Colour. After months of regional heats which saw 1,000 the TMC competition saw over 30 models from around the UK being flown into The Gambia for the first time ever, taking the modelling competition into the African continent show outside the UK. TMC is known as being one of the UK's leading modelling competitions for models of colour hoping to enter the competitive industry, made even more so by the lack of models of colour on the international runways during fashion week.
Models from across the UK including London, Birmingham and Manchester flew into The Gambia for the show in addition to a state house visit and meeting with the President of The Gambia, Yahya AJJ Jammeh and photoshoots in choice locations around The Gambia's capital of Banjul.
The evening culminated saw Emmanuel Ogunjinmi and Paula Okunzuwa walk away with the titles of Top Male and Female models of colour after having been judging on a range of abilities including runway walk, physique and understanding of the modelling industry. Industry experts on the judging panel included Arise editor Helen Jennings, leading British fashion entrepreneur Samata Angel and Yemi Adegite, CEO of Glasgow Fashion Week.
Judges for the different heats of the competition, which ran for months up to the finale in Gambia had included international makeup artist Eryca Freemantle, AFUA Acheampong, the acting editor of Black Hair Magazine, who both joined the troupe travelling to The Gambia and top Nigerian model Ibukun Jegede. The winners secured a contract with Mahogany Models which is sure to provide a launch pad for their respective careers within the modelling world. The competition also saw both commercial models and high fashion models given the opportunity to compete on an equal footing, assessing their potential within respective industries. Sola Oyabede, the founder of Mahogany Models and the Top Model of Colour competition is an influential figure within the British modelling industry and has worked tirelessly to secure a place for models of colour within the modelling industry.

Sponsors of the event included Fabecs Promotions and Africell. For further information visit http://www.mahoganymodels.co.uk
Development / Accra / Ghana / Africa / Modernghana.com