D-BANJ DAZZLES AT PASSPORT OFFICE.‪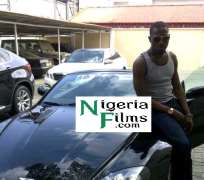 That the Koko Master has garnered a lot of swags and respect for himself is an understatement. Recently at the Passport office on the Island where www.nollywoodgists.com learnt he came to process his passport, he dazzled all and sundry with his entourage.
Our one and only Mr. Endowed aka Mr. Entertainer aka many things, but best known as D-Banj was very recently on Monday, June 11, 2012 at the passport office on the Island, that's the one near Obalende (by Alagbon Close) and on arrival you would have thought it was either a very top Government Official or most probably the top boss at the Immigration that had just arrived.
Most people know that anywhere, the G.O.O.D Music Nigerian/African star goes nowadays it's always with plenty of swags. Entourage, made up of security details, personal staff and a few friends or should we say hangers-on.
D'banj who has separated from his former friend, Don Jazzy came like a superstar that he is, in a convoy of four cars, he was in his Black, two-door Aston Martin Vantage car followed by three other cars.
He got down at the entrance to the immigration office and seems to just put on the full effect of his swags lighting up the whole place. Many who were there were quite impressed.
Click the link below to go to...
SCANDAL: MBGN In Deep Mess As Ayuk Isabella Rejected By Miss World Organisers**She Isn't Going For Personal Reasons--Silverbird
Lagos Big Girl, Lilian Unachukwu Sends Journalist To Prison
I'm Praying For A Husband Seriously- Evangelist Eucharia Anunobi
Exposed: Married Nollywood Actresses Sleep Around Like Dogs - Shan George
Anita Joseph In Love Child Mess**He Is My Nephew--Anita Cries Out
I Had Crush On Ramsey Nouah--Susan Peters Confesses
Nigerians Selling Their Kidney For $30,000 Abroad