Nii Ayikwei Parkes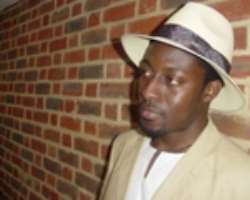 Nii Ayikwei Parkes writes poetry, prose and articles. Former Poet-In-Residence at the Poetry Café, he is the author of three poetry chapbooks; eyes of a boy, lips of a man (1999) and M is for Madrigal (2004) and the self-published shorter (2005), which is a vehicle to raise money for a writers' fund in Ghana. Nii also co-edited the groundbreaking Tell Tales Volume I short story anthology with Courttia Newland and regularly edits X magazine.
Nii has performed poetry all over the world on major stages like the NuYorican in New York, The Royal Festival Hall in London, Java in Paris and Paradiso in Amsterdam as well as at festivals such as the Lancaster Literature Festival and the Austin International Poetry Festival. In 2002 he completed a six-week tour of the United States, and in 2003 he was given an Arts Council Award for his just completed novel, The Cost of Red Eyes, which was the subject of a recent radio documentary on the publishing industry. His event specific commissions include poems for the V&A museum's 2003 summer reading series focusing on their collections, a mural for Lewisham High Street (London), and a reading for the London Mayor's vigil on July 14, 2005 (in response to the London bombings).
As a socio-cultural commentator and advocate for African writing, Nii has led forums internationally, has sat on discussion panels for BBC Radio with literary heavyweights such as Booker winners, Margaret Atwood and A.S. Byatt, and he runs the African Writers Evening series, at the Poetry in Covent Garden.
Nii was a 2005 associate Writer-In-Residence on BBC Radio 3 and was the featured face for poetry in the 2004 Time Out London Guide. He is also contributor to several magazines and literary journals including The New Writer, The Interpreter's House, The Accra Mail, The Map of Austin Poetry Journal, Dreamcatcher, Sable, and Wasafiri.