Why Uche Jumbo Slept In Police Detention**Allegedly Tells Police "I Can Pay Your Salaries"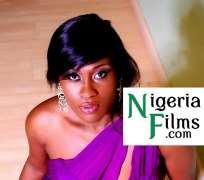 On Thursday, May 3, Nollywood actress, Uche Jumbo and her colleague, Van Vicker were arrested and detained along with their crew members while filming in Surulere, Lagos.
They also had to pass the night at Bode Thomas police station, Surulere, where they were arrested and detained.
Though Uche and some of her other arrested colleagues may have painted a 'saint' episode on the matter, but further findings and reports have shown otherwise.
One of the arrested colleagues of Uche, Uduak Isong, had earlier informed some of her media friends that they were arrested because they always portray Nigerian police bad in their movies.
But according to what Ben Njoku of Vanguard newspaper reported over the weekend, Uche Jumbo was unruly with the police.
She was reported to assaulted the Divisional Crime Officer (DCO), who had approached her for a letter of consent from the Inspector General of police to shoot a movie scene at the police station.
Rather than politely answered the senior police officer, Uche reportedly rained abuses on the police, fuming that she can pay their salaries.
This, according to Vanguard, made the Divisional Police Officer (DPO) to order her arrest when the matter was reported to him.
The paper reported that it took the intervention of some top Actors Guild of Nigeria (AGN) members to beg the police not to charge Uche Jumbo to court for unruly behaviour, unlawful invasion of government institution to shoot film and assault on the police.
She was released the next day of her arrest. Uche Jumbo secretly married her Puerto Rican lover last week Wednesday, May 16.
Additional story Source: Vanguard Newspaper