FORMERLY A MAN NOW A BEAUTY QUEEN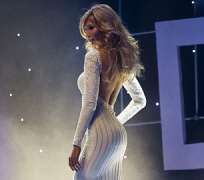 She was born a man 23 years ago (1989) and after undergoing sex change surgery at 19, 4 years ago-2008, she is now a delectable woman. She seems to have now taken the world by storm. Jenna Talackova was one out of the 62 women that competed for a beauty crown lastnite- Miss Universe Canada.
At 6'1'' she towers above many of the other contestants. The trans-gender, that's what they are called, had caused a lot of uproar, when she was at first discovered and was sent packing, but she sued and was later re-instated.
>

Click the link below to go to...
Sultry Actress, Genevieve Looking Sexy On Chelsea FC Jersey
Star Nollywood Actor, Pawpaw Acquires N7.5m LR3 SUV
EXCLUSIVE: Uncloth Journalism Student Opens Up On Controversial Story to Nollywoodgists.com
Rita Dominic, Majid Mitchell Win AMAA Actress, Actor Of The Year Awards