HEROES AND ZEROES LANDS IN GHANA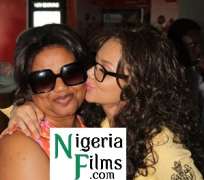 After receiving much publicity in the media, the Niji Akanni movie "Heroes and Zeroes" landed in Ghana on Monday. The movie stares the likes of Olu Jacobs, Bimbo Manuel, Norbert young, Tina Mba, Akin Lewis, Nadia Buari and many others to tell the story of how Journalists will go any length to sell their papers. It also combines lessons of faithfulness and trust in a relationship to all who watch the movie.
The movie Heroes and Zeroes was exclusively premiered to a section of selected press at the Silverbird Cinemas in Ghana on Monday. Present at the premier was lead Actress Nadia Buari, who admitted that she did not audition for her role in the movie. Nadia also set the records straight to her fans, when the media present asked about her absence from most movie premieres : "Don't get it twisted and don't tell people that I don't show up at my own premieres . A lot of times I am not told of when and where the movie is going to be premiered. they only call me sometimes, two or three days to the premiere hence turning them down". According to the Actress she needs more time. She also stressed that if she is given enough notice before the premier of the movie "Heroes and Zeroes", which would be on June 8th, she is likely to be at the premier.
"Heroes and Zeroes" is set to make its grand debut in Ghana at the Silverbird Cinemas. It is expected to be premiered in the United Kingdom, before being released in Nigeria , come September.

Nadia' Mum