Photo: Toni Payne Poses With 9ice's Pregnancy?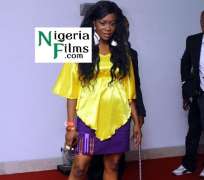 Some months ago, news broke that Toni Payne, the estranged wife of Alapomeji Records boss, 9ice, was pregnant for the hip-ju artiste.
Weeks after, the Gongo Aso crooner reportedly denied being responsible for Toni's reported pregnancy.
Weeks later, Nollywoodgists.com reported that both Toni and 9ice were planning a reunion after being separated for about two years. It was also reported that both were still seeing each other at a rendezvous around Magodo, Lagos.
Less than two months ago, 9ice sacked his manager, Dehinde Fajana, which sources told Nollywoodgists.com had to go for the reported comeback between Toni and 9ice to materialise. Dehinde has sometimes been alleged by Toni to be responsible for her marriage crack.
On April 30, 2012, Toni Payne stormed Eko Hotel and Suites, venue of 2Face's album launch concert, with what some believed to be bump in her stomach area.
For now, no other man has been romantically linked with Toni.
Though 9ice has reportedly denied being responsible for the pregnancy, but the question is, whose pregnancy is Toni Payne carrying?
>

Click the link below to go to...
9ice Talks About Toni Payne's Pregnancy News
'I'd go nude for an Oscar' - Majid Michel
'I'm not ready to sleep with anybody for fame'
Celebrity Birthday: Stella Damasus
I DIDN'T KNOW CHIDI MOKEME WAS A MOVIE STAR--JEAN OLUMBA MOKEME