Annie Macaulay Opens Up On Marriage With 2Face**Says, "It Feels So Good"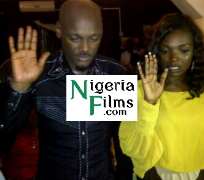 Though their marriage last week Tuesday was done with a high level secrecy but it has not changed the fact that Annie and 2Face are married.
Cameras were not allowed at the event and only few family members witnessed the exchange of marriage vows.
At his first post-marriage performance at the Silverbird Most Beautiful Girl in Nigeria (MBGN) held at the weekend in Benin City, 2Face declared, "I don marry".
Unarguably one of the happiest women on planet earth for marrying 2Face, Annie took to twitter to express her joy for her final re-catch of the African Queen crooner, 2Baba, as he is also fondly called.
Annie, who is a mother of one, tweeted, "I want to say a BIG thank you to everyone who sent I and my husband [2Face] congratulations messages and best wishes. It feels so good! We appreciate! Thanks."
Just few years after 2Face got his big break, his relationship with Annie crumbled. Other women, Pero Adeniyi and Sumbo Ajaba came into the fore with each giving 2Baba three and two children respectively.
On February 14, 2012, 2Face made a stunning comeback to Annie when hhe proposed to him at a club in Lagos.