PDP TO OSHIOMHOLE: YOU'RE INCITING EDO PEOPLE AGAINST US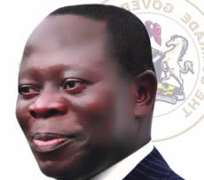 Leadership of the Peoples Democratic Party (PDP) in Edo State yesterday denied having any hand in the murder of Governor Adams Oshiomhole's Principal Private Secretary, Comrade Oyerinde Olaitan.
Addressing journalists in Benin, state chairman of the party, Chief Dan Orbih, described Governor Oshiomhole's allegation linking the party to the murder as malicious and vexatious, saying it was to paint the PDP in black to gain sympathy and cheap popularity.
Chief Orbih said whereas Governor Oshiomhole had given the state's police command 14 days to investigate the incident, he did not wait for the 14 days before accusing Chief Anenih and the PDP of the crime.
'This is a very dubious attempt to incite the public against the party and its leadership to divert attention from his imminent defeat on July 14.'
The PDP chairman, while accusing the ACN of planning to generate tension, called on the Inspector-General of Police to call the governor to order.
Commenting on the recent accident involving the governor's convoy in which three journalists died, Chief Orbih said, 'We were informed that the driver of the truck and owner are card-carrying members of the  ACN,' adding that there was even an ACN sticker on the truck.
He urged the police to investigate and establish whether anybody sent the driver on a trip on Afuze-Auchi Road on the fateful day, and to also find out from the driver's mobile phone the calls he received within a week before the accident and immediately after, just as he urged the police to quickly release the interim report on the accident.
Describing Oshiomhole's government as a government of renovation, Chief Orbih accused him of failing to deliver on his electoral promises to the people of Edo State, alleging that crime was highest in the state under Oshiomhole's administration.