Biography-Genevieve Nnaji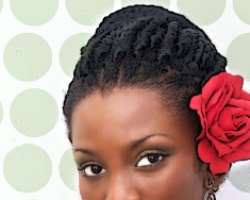 Born Genevieve Nnaji
May 3, 1979 (1979-05-03) (age 30)
Lagos, Nigeria
Genevieve Nnaji started her acting career as a child actress in the then popular television soap opera – Ripples at the age of 8. She also featured in several commercials some of which include Pronto beverage and Omo detergent. In 1998 at the age of 19 she was introduced into the growing Nigerian film industry with the movie – "Most Wanted". As an upcoming actress, trying to create a niche for herself, she went through various minor roles seeking for that opportunity for a break through.
Her subsequent movies – 'Last Party'; Mark of the Beast; and Ijele (still considered to be one of her best epic performance to date) brought forth an icon to be loved and adored by many. Her name became a household name, her image the desire of every young girl. In 2002 she featured in the movie 'Sharon Stone' and her fame shot beyond the shores of Nigeria to Africa and several European countries. One can say the 'buzz' Genevieve reinvented the Nigerian Film Industry, introducing Nollywood.
Genevieve appeals just as warmly to Kenyans and Liberians and South Africans and Ghanaians who avidly watch Nigerian home videos at home and abroad. Genevieve has led the market into new territories today. She took the extra step of projecting herself beyond Nigeria by having a website constructed back in 2003 and it was arguably the most trafficked Nigerian site on the Internet. Its fame spread like wildfire, a jolly virus. 3549 entries in 355 pages in two weeks…
The thoughts expressed in the pages are often sporadic, but true in their spontaneity, sincere in their intentions. Love is the word used most on the site. "I love you…" Many would leave their phone numbers, email addresses, in hope of a reply. In recognition of her immense contribution to the Nigerian film industry, Genevieve has been presented with numerous awards some of which have been in Dublin, London and America. She won best actress of the year in the 2001 City People Awards and in 2005 at the maiden outing of the prestigious African Movie Academy Awards (AMAA). In 2004 a search for the face of Lux was embarked upon and out of several celebrities all over Africa Genevieve emerged with the highest votes. She graced several billboards and television stations with her enduring smile and personality.
In 2004, she was given a contract by a Ghanaian record label to produce an album which got immense attention locally and in several African countries. With several movies to her credit, and numerous fans around the world, in 2008, in a bid to give back to society, Genevieve launched her clothing line 'St. Genevieve' which donates a percentage of its proceeds to Charity – Orphanages.
Genevieve is quoted to be the highest paid and most desired actress in Nollywood today. A desire to be in contact touch with her fans after being absent from the web for about 6years has resulted in the construction of a new site – www.genevievennajifanbook.com. This affords the actress the opportunity to keep in constant touch with her numerous fans the world over. The site is an interactive one and the heats have been outstanding.
Her life personifies the saying "All things are possible if you will only believe." These words describe her: Determined, Focused, Humble and Creative. The best years of her career are still ahead.
[edit] Filmography
Genevieve's Movies. 1. ABOVE DEATH (2003) 2. ABOVE THE LAW 3. AGBAKO 4. AGE OF AGONY 5. BATTLE LINE 1-2 (2002) 6. BEAUTIFUL SOUL 1-2 (2008) 7. BEHIND THE TRUTH 1-2 8. BELOVED 9. BLOOD SISTERS 1- 2 (2003) 10. BLOOD FOR TEARS 1-2 11. BREAK UP 1-2 (2003) 12. BRAVE SOUL 1-2 13. BROKEN TEARS 1-2 (2008) 14. BUMPER-BUMPER 1-2 (2004) 15. BUTTERFLY (2003) 16. BY HIS GRACE (2003) 17. CAMOUFLAGE (1999) 18. CAST AWAY 19. CAUGHT IN THE ACT 20. CHURCH BUSINESS 1-2 (2003) 21. CRITICAL CONDITION 1-2 22. CRITICAL DECISION 1-2 (2004) 23. CONFIDENCE 24. COULD THIS BE LOVE 25. DARKEST NIGHTS 1-2 (2005) 26. DANGEROUS SISTERS 1-2 (2004) 27. DANGEROUS GROUNDS 28. DEADLY MISTAKE (2003) 29. DEATH WARRANT (2001) 30. DAY OF DOOM 1-2 31. EMERGENCY WEDDING (2003) 32. FAITHFUL BETRAYAL 1-2 33. FIRE DANCER 34. FOR BETTER FOR WORSE 1-2 (2003) 35. FORMIDABLE FORCE (2002) 36. FREE GIVER 37. GAMES WOMEN PLAY 1-2 (2005) 38. GIRLS COT 1-3 (2006) 39. GOODBYE NEW YORK 1-2 (2004) 40. HE LIVES IN ME 1-2 (2004) 41. HONEY 1- 2 (2003) 42. IJELE 43. INTO TEMTATION (2004) 44. JEALOUS LOVERS 1- 2 (2003) 45. KEEP MY WILL 1-2 46. KEEPING FAITH (2003) 47. LAST WEEKEND 1-2 48. LATE MARRIAGE (2003) 49. LETTER TO A STRANGER (2007) 50. LOVE (2003) 51. LOVE AFFAIR 1 AND 2 52. LOVE BOAT (2001) 53. LOVE MY WAY (2009) 54. MARK OF THE BEAST 55. MAN OF POWER 56. MINE FOREVER 57. MORE THAN SISTERS 58. MY FIRST LOVE 1-2 (2004) 59. MY IDOL 1-2 (2008) 60. MY ONLY LOVE (2003) 61. NEVER DIE FOR LOVE 1-2 (2004) 62. NOT MAN ENOUGH 1- 2 (2003) 63. ONE LOVE 1-2 64. PASSIONS (2003) 65. PASSION AND PAIN (2003) 66. A PIECE OF FLESH 1-2 67. PLAYER 68. POWER OF LOVE 1-2 (2002) 69. POWER PLAY 1 AND 2 70. PRIVATE SIN 1-2 (2003) 71. PROPHECY 1-2 72. PROMISE ME FOREVER 1-2 (2004) 73. RIP OFF 1-2 (2005) 74. RISING SUN 75. RIVERS OF TEARS 1-2 76. RUNS (2002) 77. SECRET EVIL 1-2 78. SHARON STONE 1- 2 (2002) 79. SHARON STONE IN ABUJA (2003) 80. SLEEP WALKER 1-2 81. SIDE ATTRACTION 82. SISTER'S LOVE 1-4 83. STAND BY ME 1-2 (2004) 84. SUNSET IN AFRICA 85. SUPER LOVE (2003) 86. SYMPATHY 1-2 87. THE CHOSEN ONE 1-2 (2003) 88. TO LOVE AND TO CHERISH 1-2 89. THE RICH ALS CRY 1-2 90. THE WIND 91. TREASURES 1-2 (2004) 92. TWO TOGETHER 93. UNBREAKABLE (2004) 94. UNFINISHED BUSINESS 1-2 95. VALENTINO 1-2 (2002) 96. WARRIOR'S HEART 1-3 (2007) 97. WE ARE ONE 1-2 (2004) 98. WIND OF GLORY 1-3 99. WOMEN AFFAIR (2003) 100. 30 DAYS (2006)