KAY - VAVA VOOM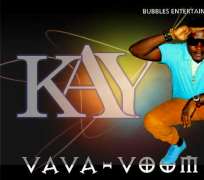 PROFILE:
Kayode Obafemi Popularly known as "KAY" is a fresh Graduate of English Language from the prestigeous Obafemi Awolowo University Ile-Ife. co-founder, Peolple of like-minds (PLM) which is a non-governmental Organisation within and diaspora, also the former Director of Socials and Culture (D.O.S) of the students Union 2009-2010, and the Founder of BUBBLES ent.
This HOT new track VAVA VOOM was written by KAY, and produced by CYKO Production. 2012
=============================
Kay is a talented and harworkig artistes, Pls listen to this track and help out in uploading it on your reputable website... The Song, Links and Promo Art Design has been attached to this email...
=============================
Vava Voom
http://hu.lk/802niy0rp71r
http://bit.ly/IGG5xO