Lufthansa To Cut 3,500 Jobs In Savings Drive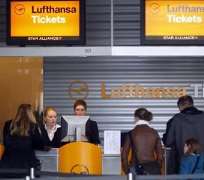 Deutsche Lufthansa (LHAG.DE), Germany's biggest airline, announced plans to slash 3,500 administrative jobs around the world as it tries to offset soaring fuel costs and fierce competition in Europe to return to profitability.
"We can only safeguard jobs for the long term and create new openings if we reorganize the administrative functions and accept job losses now," Chief Executive Christoph Franz said in a statement on Thursday.
Lufthansa, which has a workforce of about 117,000 people worldwide, fared better in the global economic crisis than peers such as Air France-KLM (AIRF.PA) and British Airways (ICAG.L), but CEO Franz said the airline needs to radically cut costs to remain competitive.
The airline added about 2,500 of the planned job losses will be in Germany.
He has vowed to improve results by 1.5 billion euros ($2.0 billion) by the end of 2014 as rocketing jet fuel prices, a weak global economy and competition for passengers with fast-growing low-cost carriers and Middle East airlines squeeze margins.
Lufthansa's move came as Scandinavian airline SAS (SAS.ST) blamed high fuel prices for a quarterly loss that was more than twice as large as analysts had forecast, and Irish airline Aer Lingus' (AERL.I) said performance in April was lower than expected.
At the same time, Danish no-frills airline Cimber Sterling (CIMBER.CO) said it has declared bankruptcy after its owners finally pulled their financial support.
PRICEY KEROSENE
Lufthansa's first-quarter operating loss more than doubled to 381 million euros, missing a consensus forecast of a 289 million euros loss as the average kerosene price rose 9 percent year-on-year.
The carrier expects to spend 7.5 billion euros on fuel this year, eating up about a quarter of its 2012 revenues.
Shares in Lufthansa were up 0.3 percent at 9.931 euros by 03:57 EDT (0757 GMT), underperforming a 0.8 percent gain by the German blue-chip index .GDAXI.
The carrier said it still sees its 2012 operating profit declining to a figure in the mid-hundreds of millions of euros, but said that target excluded possible costs related to the cost-cutting program.
In addition to job cuts, which will help lower administrative costs by about a quarter, Lufthansa will bundle some procurement, restructure its Austrian unit and boost cooperation between its main Lufthansa brand and low-cost carrier Germanwings.
It has also cut its capacity expansion plans again, saying it now planned to offer only 1 percent more seats this year, compared with previous plans to add 2 percent capacity.
($1=0.7603 euros)
REUTERS