Concepteur de Fruitee dazzles at Wed Expo Lagos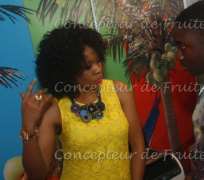 Upscale fruit company, Concepteur de Fruitee(CDF) shone like a thousand stars at the recently concluded wedding, events and entertainment exhibition tagged the Wed Expo 2012 which held in Lagos. The elaborate exhibition brought together under one roof the power brokers in the wedding, events and entertainment industry in this part of the world.
Concepteur de Fruitée is in the business of making fresh fruits look stylish as they bring out the beauty, colours, style, and different shapes of fruits. CDF is the pioneer company in the fruit industry as they give more options to the art of consuming fruits. To them at the CDF, a fruit is not just an edible item but an art hence the reason they constantly seek new ways to eat and style various fruits around the world.
Reports have shown that the CDF was among the top five patronized stands at the Wed Expo Lagos 2102 according to a poll conducted by the organizers of the wedding, events and exhibition event.
The company is gradually getting the attention it deserves as top event planners and celebrities now see it as an integral part of a 'well-packaged' event. CDF has been part of many events, the premiere of the popular film, The Return of Jenifa, a film by Funke Akindele where an array of exotic fresh fruits were presented in the most exquisite way and were available for eating.
CDF also featured at the Society wedding of the year, the engagement of Abbey and Funke Kuku, where their concept was very exotic which left guests at the event in utter amazement at the artistic presentation of the fruits.
One of the officials of the company Mr. Bossa gave us an inkling into how the company sources for these fruits and their outing at the Wed Expo Lagos 2012, 'the Wed Expo Lagos 2012 further put our name on the map as events in this country is concerned, in that many people visited our stand and they were really amazed to see that the fruit styling which is our forte is not just a job but an art that requires expertise'.
Speaking further, 'Some of the fruits here are rare. You don't get to see them on the street often. We source them from outside the country as they don't grow here, that is the reason you see people keep coming back to eat the fruits'.
Other products available at the CDF include fruit tree, fruit basket, fruit carving, fruit bouquets, fruits kebab and desserts.
See the pictures of fruits display from CDF.