Breaking News: Oshiomhole Escapes Death in Ghastly Accident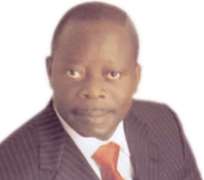 Huhuonline.com / can reveal that the Governor of Edo State, Comrade Adams Oshiomhole this afternoon escaped death as vehicles in his convoy were involved in a ghastly accident, which resulted in the death of one person, injuring several others.
The accident happened in Ayakilas area, near Jattu in Etsako local government area of the State. The vehicle conveying the journalists attached to Edo State Government house was mangled, and the government press officer, simply identified as   Tunji died on the spot.
The casualty figure has so far not been ascertained as at press time, but the Governor was said to have escaped death by the whisker.
The accident coincides with his public declaration for the governorship election scheduled   to hold soon.