Protein 'behind Alzheimer's fits'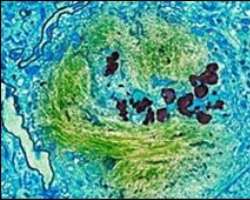 Scientists in Scotland say they may have found what causes some Alzheimer's patients to develop epilepsy.
The amyloid protein, which forms in clumps in patients' brains, makes nerve cells too sensitive and prone to seizures, tests in mice suggest.
The cells short-circuit and fire too many electrical signals, the Journal of Neuroscience reports.
If true in humans too, which the experts say is likely, it may mean some patients will need different drugs.
A mainstay of treatment for Alzheimer's is a class of drugs called the cholinesterase inhibitors.
They work by stopping the breakdown of acetylcholine, an important neurotransmitter associated with memory.

But an unwanted effect is that this can also increase a person's susceptibility to seizures.
However, medication to control seizures can also make Alzheimer's symptoms worse.
A third of Alzheimer's patients have some degree of epilepsy, posing a treatment dilemma for doctors.
New understanding
Researcher Professor Tibor Harkany, of the University of Aberdeen, said he hoped his findings would lead to the discovery of new drugs to treat both problems with fewer side-effects.
He said: "We have shown for the first time the actual cellular process that links epilepsy and Alzheimer's disease.
"This provides us with a new wave of understanding in Alzheimer's disease.
"Our findings could lead to a rethink of the type of drugs that are given to patients with Alzheimer's disease.
"It should be possible to design drugs to tackle the two problems of seizures and cognition at the cellular level because both share common mechanisms."
Rebecca Wood, chief executive of the Alzheimer's Research Trust, said: "One third of Alzheimer's patients have some degree of epilepsy, and some people who live with the disease are 80 times more likely to suffer seizures than the general population.
"This research builds greatly on our understanding of the connection between the two conditions."
Neil Hunt, of the Alzheimer's Society, said: "These seizures can be extremely distressing for people with dementia and their families.
"This research enhances our understanding of the relationship between epilepsy and dementia."