I Can Never Be A Single Mother--Uche Jombo**Talks About Marriage Rumour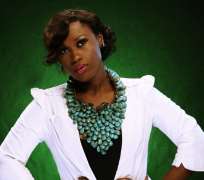 Some days ago, a national newspaper reported that chocolate skin make-believe queen, Uche Jombo was getting ready to marry.
The news story identified one Chidi as the groom of Uche.
But the actress has opened up on the marriage rumour trailing her. According to her, her marriage would come at the right time.
Meanwhile, just when that heating up, a fan of hers tweeted at her, "in 13 years [time], Genevieve and Uche Jombo will be single mothers with no actual father! Isn't Genny a [single] mother already?"
In a sharp response to the tweet, Uche tweeted, "I don't know the point of the tweet, but I sure[ly] pray to be a mother in 13 years [time].
So, if that is an insult, it is a weak one.
[I am] not going to bother [myself about] the single-mother part because my mama taught me better than that."< /b>