KWEEN - READY + U NO GO KNOW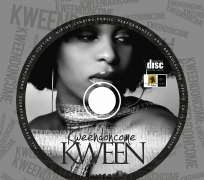 KWEEN'S PROFILE

Born Queen Chinyere Onokala , Kween is an outstanding songstress with the most captivating vocal range and texture combined with a professional stage craft and a highly embracing international appeal with an afrocentric feel. A symbol of royalty which stands by itself, she is a brand synonymous with intelligence and inspiring lyrics. For her, music is the core of her passion.
This irrepressible Diva hit the music scene in 1999 with a singing career with Zuma Rock Band in Sharaton till early 2001. She went solo in November 2001 with the release of her first single 'oluronbi' which featured Fuji Star Pasuma Wonder. In April 2006, she again released 'Come with Me'. One of her greatest asset has been her lingual dynamism. This gives her the advantage of singing in English, Yoruba and Igbo as well as the Nigerian Pigin English with credit to her being Igbo but raised in Ogun state.




The tipping point of her career was marked with the release of her third single 'Jebele' in June 2007. 'Jebele's' prominence resulted in a quantum leap and this attracted Soundcity Music Video Award for Best Female Video 2008 as well as Best Highlife Music Video at Nigerian Music Video Awards (NMVA) 2008. Prior to the NMVA Award, the single 'Jebele' was nominated for Best
Picture, Best Edited Video, Best Overall Music Video, Best Picture and Best highlife, a testimony of its exceptional quality. Since then she has released tracks which includes 'Gold digger' and 'Jowo Biko'-a track from off the recently released "Love Drunk Compilation" put together by Now Muzik Recordings. She also has a new video in the market titled 'playa' directed by the ingenious Clarence Peters and produced by Wole Oni nominated for the category of Best Indigenous Video AND Best
Use Of Costume at the Nigerian Music Video Awards (NMVA) 2011. The tempo of her 'Playa' single which is a complete deviation of the usual traditional feel of her previous works showcases her dynamism and resolve to stay relevant. In August, she had an album listening party for her "kweendoncome" album. This self titled album that has been testified by industry henchmen as 'an excellent piece' and 'a timeless collection of music' is a fourteen (14) track album which includes among others 'Kadara', 'Black Widow', and 'Ready'. The rich maturity of this album cannot be over-accentuated. Both the premium and economy edition was released in chorus into the Nigerian music market last Wednesday December 7, 2011. Kween is happily married with two adorable sons.
by itself, she is a brand synonymous with intelligence and inspiring lyrics. For her, music is the core of her passion.