Yemi Solade Stepping Out As Discipline and Peace Marshall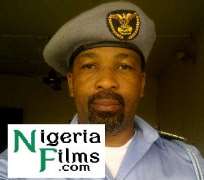 For those very close to this Wole Soyinka trained actor, toughness, doggedness, discipline and gentleness are some of his traits.
To opposition, he is a rebel, to lovers and admirer, he is the revolution.
Four years ago, he was made a Discipline and Peace Marshall by a Non Governmental Organisation.
Some weeks ago, he was actively involve in the campaign against piracy.
Is Yemi Solade only walking in the part of his trainer, Wole Soyinka who also hails from Egba in Ogun State?
Is Yemi looking good on this uniform?