Niger Delta Ministry, A Political Deceit - Senator Enang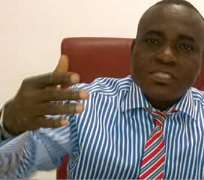 UYO, April 13,(THEWILL) - The member representing Akwa Ibom North South in the National Assembly, Senator Ita Solomon Enang, has described the establishment of the Ministry of Niger Delta by the federal government as a diplomatic deceit of the people of the south-south geopolitical zone.
Enang gave the opinion on Friday during an interaction with the media in the capital city of Uyo, adding that the establishment of the ministry was unnecessary as it has added nothing to the zone's development, save the Ministry's inconsequential handling of presidential initiative projects such as the construction of the East-West Road.
Ita's comments came few hours after Jonnie Carson, the Assistant Secretary, Bureau of African Affairs at the Centre for Strategic and International Studies, Washington DC, suggested the replication of a similar organ for Northern Nigeria as a panacea for the worrisome spate of insecurity in the region.
"Till tomorrow, I will continue to say that it was unnecessary to create the Ministry of Niger Delta Affairs because it has no extra fund. The creation of the ministry is a diplomatic deceit," he argued.
"What was done with the ministry after creating it to transfer of the budget of the Ministry of Works and the road projects in the Ministry (that were called presidential initiative projects) to the Ministry of Niger Delta"
According to the national lawmaker, the federal government has done nothing beneficial to the region with the creation.
"Lagos to Lokoja, Lokoja to Abuja, Kano to Maiduguri and the East-West Roads were on the list of presidential initiative projects but only the East-West was taken out and given to the Niger Delta ministry while the others are still being handled by the Ministry of Works," he said.
"We should create Ministry of Western Affairs, Ministry of Middle Belt and Ministry of North-East to transfer the other presidential initiative projects to them instead of deceiving the people of Niger Delta that you have given them something."