Boko Haram Member Has Al Qaeda Links, Says SSS Official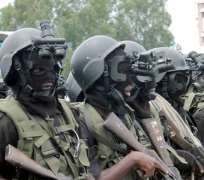 ABUJA, April 04, (THEWILL) - A former officer of the State Security Service (SSS), Bukar Tarha yesterday told a Federal High Court in Abuja that Mallam Mohammed Suleiman Ashafa, who is standing trial for alleged membership of the notorious Al-Qaeda terror group, admitted his involvement in national and international acts of terrorism.
Tarha, who retired from the SSS into private practice in 2008, told the court that the Nigerian suspected Islamic fundamentalist had admitted, during investigations, to have worked for the Resident Chief of Al-Qaeda in West Africa based in Kano, Mallam Adnan Ibrahim. He said that the suspect also admitted to taking some Nigerians for terrorism training in the Sahel Region.
The witness told the court that Ashafa, who was initially accused of having links with the Boko Haram Islamist group, was under his custody between 2005 and 2006 when he headed the anti-terrorism department of the SSS.
He said that the accused person was handed over to the Nigerian government by the Pakistani government through the National Intelligent Agency (NIA). He also said there was a forwarding letter with a brief that Ashafa was intercepted at the Pakistani Airport in 2004, with subsequent search and investigation by the Pakistani authorities revealing his membership of al-Qaeda, and revealing that he was sent to Pakistan by the Resident Chief of al-Qaeda in West Africa, Mallam Adnan Ibrahim. According to the witness, the accused person was intercepted with compact discs containing coded messages for the West African Chief of the Al-Qaeda.
"Four months after I took over the schedules of the head of the anti-terrorism department, other suspects were also intercepted and handed over to the Nigerian government by the Libyan government," he said. "Subsequent interrogation of the suspects revealed that it was Ashafa who took them for terrorism training in the Sahel Region. I interrogated Adnan Ibrahim in 2006 after his interception by the Libyan authorities and he confirmed to me that he sent Ashafa to Pakistan with another Nigerian terrorist, by name, Yusuf Ahamed."
Ashafa is currently facing a five-count charge of receiving monetary payments from Talha and Na'deem (al-Qaeda operatives) of the Tabliqh headquarters, Lahore, Pakistan for recruitment and training of terrorists.