GHANAIAN TOP ACTRESS,BEVERLY AFAGLO AND HIPLIFE STAR,PRAYE HONEHO PICK APRIL 14 WEDDING DATE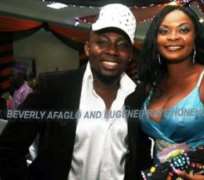 After several reports and rumours on their long term romance,actress Beverly Afaglo and singer Eugene Baah popularly known as Praye Ho Ne Ho(from the hiplife group,Praye) have made their love affair official by announcing their upcoming wedding in church.
The couple made the first wedding announcement at the Action Chapel Community 9 church in Tema last week.
The date for the wedding is set for April 14.
Recall,that few months back,the actress confirmed to us in an interview that she had been dating Eugene Baah for about 4 years.That was the first time the popular actress would be talking on the issue.
She also noted that their relationship was altar-bound and that their wedding bells would soon ring.
This latest development is however a confirmation of her statements in the said interview.
One interesting thing the two lovebirds had been able to achieve, which a lot of people on the showbiz circle found amazing was being able to keep their affair from the privy eyes of the public for more than two years.
At the moment however, people in the showbiz circle are already gearing up for what is going to be one of the biggest parties in Accra this year.
click the link below to go to...
TOP GHANAIAN ACTRESS,BEVERLY AFAGLO SPEAKS ON HER ROMANCE WITH HIP-LIFE SINGER,PRAYE HONEO.