I won't allow my daughter to married to a white man and 'My life as a practising Christian married to a Muslim'---Chief Iyabode Olufunmilayo Adedoyin-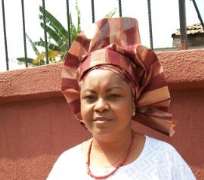 Chief Iyabode Olufunmilayo Adedoyin, the wife of the President of Oduduwa University, Ipetumodu, Osun State, manages Hilton Hotels, Ile-Ife, Osun State, The beautiful mother of five girls and two boys tells GBENGA ADERANTI what it takes to be married to a husband who is always on the move.
Do you still practise your religion?
Yes, my husband allows me. Being married to a Muslim has not changed me from being a Christian. You know there are some things you imbibe as you grow up. All the Christian traits and values my parents put in are still there. I can't change those things even though I'm married to a Muslim.
How about your children?
Well, I can see some of them imbibing Christianity. You know that we women stay with the children than their fathers. They are picking some things from me. They copy the way I do things. That does not mean that all of them are Christians. Some of them have chosen to go the way of Islam. I still call some of them their Muslim names. There is no problem, and they are okay with both religions because they can practise both.
Has there been a time the issue of religion caused a problem between you and your husband?
No. But what my husband always says is that he would not allow any of his children to be a religious fanatic or fundamentalist. He warns that if you want to be a Muslim, don't be one that would be condemning everybody. And if you want to be a Christian, don't condemn anybody either.
Would you allow your children to marry from outside your tribe?
Yes, I would. They can marry a Christian or a Muslim. There is no problem about that.
Would you allow your daughter to get married to a white man?
No, I won't. If a girl is married to a white man, they will forget about home. You know that their culture is me and my wife. I don't like their style.
If you were to advise a lady who is about to get married,. What would you say to her?
My only advice for a lady who wants to get married is that she should put everything in God's hand and should be asking God for wisdom, knowledge and understanding. If she asks for these, God will give them to him. You are your own prophet and pastor. Anything you want, if you tell your God, the answer from God is no, yes or wait. It is only when we cannot wait that we make mistakes. But if you are focused and wait and say this is the type of man I want in my life or this is the type of woman I want in my life, God will bring it to pass.
I think anybody who wants to marry should not say because she is a doctor, she would want to marry a doctor or she would want to marry a chartered accountant because she is a chartered accountant. Such a home will not be peaceful. It will be like a two masters wanting to drive a car. It won't be easy. I have ladies and I always tell them, 'If you want to marry, marry the person that you love, not wealth. You need to do a proper check on the background of the person you want to marry. If the parents of the people you want to marry are not together, that is a problem.