ARTs To Be Made Free•Committee Currently Considering Possibility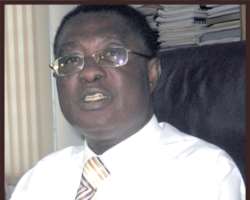 ·Prof. Sakyi Awuku-Amoah speaking to HEALTH MATTERS There seems to be light at the end of the tunnel for thousands of AIDS suffering Ghanaians who cannot afford the monthly cost of anti-retroviral therapies (ARTs).
Only 19,000 out of the 81,000 HIV-infected persons are currently on the drugs.
Professor Sakyi Awuku-Amoah, Director-General of the Ghana AIDS Commission said about 300,000 people are presently living with the disease with Eastern, Western and Ashanti regions being the most prevalent areas.
He said the disease is also prevalent among people living along mining and commercial areas like Obuasi, Tema and the Takoradi Harbours.
Speaking with HEALTH MATTERS at his office recently, Prof. Awuku-Amoah said greater percentage of the infections is among people between 15 and 24 years.
Government, he said, was considering making anti-retroviral drugs free for all AIDS sufferers.
The move, he explained, was to allow people who cannot afford the cost of the drugs have access to them at no cost.
Prof. Awuku-Amoah said though government had long been subsidizing ARTs by 95 percent, quite a number of HIV-infected persons could still not afford the GH¢5 (50,000 old cedis) to purchase the drugs needed for the control of the immune system.
He said a committee had been formed under the Ministry of Health (MOH) to look into the option of making the drugs free-of-charge for people living with the disease.
"Let me remind all Ghanaians about the need to go for the Voluntary Counselling and Testing (VCT) to know their status. As I speak with you now, only 10 percent of our people know their HIV status."
Knowing one's status, he said, would help the individual live dignified and cautious lifestyle.
Professor Awuku-Amoah therefore made it clear that the responsibility of playing advocacy role in reducing HIV infection among Ghanaians does not only lie with the AIDS Commission but opinion leaders, traditional rulers, religious groups and other civil society groups.
He urged Ghanaians whose relations, friends and loved ones have been affected by the disease to show them love and compassion and not stigma and discrimination as being done in certain areas.
He pledged the Commission's preparedness to ensuring that Ghana's HIV prevalence rate of 1.9 percent was further reduced to the barest minimum.