HIP-HOP STAR,PRESH SEALS N20M DEAL WITH TADOK RECORDZ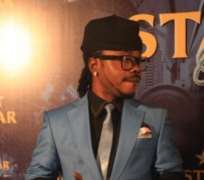 Hip-hop star,Presh(Precious John) has sealed a recording deal with Tadok Recordz.
The juicy three-year contract is worth N20 million!
We can authoritatively report that Presh signed the recording contract with Todak Global Productions chairman,Prince Timi issuing him a dummy cheque worth N20 million on Wednesday, March 14,2012.
Witnessed by select entertainment journalists, the brief ceremony was held at Metro Park, Isaac John,GRA Ikeja,Lagos.
Presh has put in more than a decade in music.Together with his erstwhile label mate(Kcee),they had five albums and numerous hits songs that brought them fortunate and fame.
The maiden winners of Star Quest and multiple award winning acts surprisingly parted ways last year with each pursuing a solo career.