I LOVE JEAN TROUSERS AND T-SHIRTS - FALODE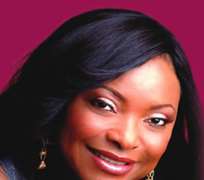 By KATE OBODO
Edo State born Aisha Falode, a graduate of Physical and Health Education has indeed carved a niche for herself in the world of sports.
A member of the media committee in the Confederation of Africa Football,CAF and National team co-ordinator of  female football in Nigeria. Aisha's  grass  to  grace story, is a common knowledge.  Currently, the executive producer and anchor person  of  her own TV sports programme, 'Women On The Ball'. In this encounter, Aisha  opens up on the secret of her dressing and how she copes with her male admirers and more.
Aisha Falode
Excerpts:
Growing up
Growing  up was tough but I have a lot of fond memories. I'm from a polygamous home. My mother had ten children but we lost the youngest in a terrible motor accident in 2002.  In all we are 19 children born to my father  and I'm the 7th in the family.
I didn't grow-up with my parents as I was moved  around from one relation's  place to another.
But at the end of my primary school education, I  went back home to stay with my parents in Ibadan where we lived.
After my primary school education, it was almost impossible to think of going to high school.
With 19 children and a father who earned little as a driver at the Lever Brothers(now Uni-liver), it was  almost an impossible dream.
After my primary school education, I stayed at  home for two years. And between these years, I  enrolled into a fashion school and later a typing school.
But fate came to my rescue when the then Head of State, General Obasanjo introduced Free Primary Education, and Teachers' training colleges. I was a  beneficiary of General Obasanjo's UPE, which means I had the opportunity to go to the Teachers' training college for five years.
After that, I went to the Abaraka College of Education and got  my NCE in  Physical Education.
I relocated to Lagos and was offered admission to the University of Lagos where I bagged a Bachelor's degree in Physical education. I capped it with a Post-graduate diploma in Mass Communication.
Incursion into sport journalism
I grew up in a community where the only way to mingle with people within your vicinity is to be  adventurous and take part in street racing or street football. Unlike what  obtains today,  in my Mokola street, Ibadan in those days, we used to  engage in different forms of sporting activities.
So, naturally when I got into the teachers' college, It was easy for me excel in sporting activities  and  ended up being the school's Handball and Hockey captain. I won medals for Lagos State at two National Sports Festivals.
Although, I didn't actually attain the height I intended in sports then, it has always been a heart desire to do something around sports.
So after college , I began to plan on how to contribute my quota in sports and that explains my getting a post-graduate diploma in mass communication.
And when I got an offer from Ray-Power and AIT to be a sports Journalist, I grabbed it.  I  was one of the pioneer journalists on the sports desk of the company.
I'd always remain grateful to Chief Raymond Dokpesi for that opportunity.
Challenges
At the beginning of my career, a lot of people thought I was just a flash in the pan. They underestimated my ability and that turned out in my favour because before they knew it, I  was in the game and  almost at the finishing line.
One of the greatest lessons I learnt as a sports journalist is that you have to be on the field. That  prepares you against challenges.
I started on the field and it was deliberate. I was reporter on the field before I became an on-air personality.
Men and I (Laughs).
In every field of endeavour there are admirers, the only thing is to know how to manage those admirers as they come.  When I started, sports reporting was exclusively  for men. It was  never easy for women to break through.
But I told myself that the only way to succeed was to be ready to work even harder than the men. So I set the building blocks that can see me through. One, was  to be truthful at all times and another was not to get distracted either by beauty or whatever fame that comes with what I do. Again, I was focused and down to earth.
Marriage.
(laughs I have a wonderful and lovely family but I don't want to talk about it.
Life outside Sports
With Aisha Falode, football is paramount. I breath, talk  and sleep football. I don't think I can do any other thing now outside sports. That is why I am passionate about my programme on AIT,  'Woman On The Ball' .  It's a programme, where women  analyse football .
My kind of dressing
I'm a pants person.  I like putting on jeans trousers and  T-.shirts. It is very rare to see  me in gowns or skirts except when the occasion demands for it. Really, nothing affects the way I dress.
My day begins in the morning after bath and I make up with a touch of the lipstick. I bath twice a day and I don't sleep with my make-up.
Shoes and Bags
I value quality shoes and bags but the makers don't make any difference to me. I buy my things anywhere it is available.  I also like good perfumes and good wrist watches.
Relaxation
I relax by watching movies especially the Yoruba genre. But when it is football season, it's football all the way. Occasionally,  I hang out with friends and enjoy a bit of partying to unwind.  I do a lot of  walk-out within my vicinity especially in the evenings.
Foods and Drinks
I'm a traditional person  and I grew up in the village. I like solid foods like eba and pounded yam. I could eat them thrice a day served with either Ogbono soup with plenty of stock fish and bush meat. I also enjoy the Auchi traditional groundnut soup mixed with bitter leaf.  I take little of drink occasionally.