AMOSUN, IGNORANT OF IDEA BEHIND VARSITY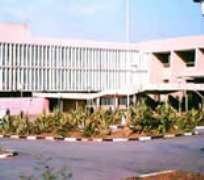 Tai Solarin University of Education
There is no let-up in the debate over the propriety of Ogun State Governor, Ibikunle Amosun's recent attempt to scrap the state-owned Tai Solarin University of Education and subsume it as an institute under the equally state-owned Olabisi Onabanjo University (OOU), Ago-Iwoye. The regime's spokesman, Alhaji Yusuf Olaniyonu, in a media publication last week, took on critics and defended the proposed step.
He argued, for instance, that apart from poor quality of education, arising from inadequate funding of the institution, the university had lost focus, by dabbling into and offering 'irrelevant' courses, which are not on secondary school education curriculum that its graduates may have to teach
But Mr. Sina Kawonise, former commissioner, information and orientation in Otunba Gbenga Daniel's administration, which founded the university, said to be the first of its kind in Nigeria and the second in Africa, says such reasoning misses the 'conceptual basis' and the whole idea behind the setting up of the university. He pointed out that the institution was meant to equip its students with knowledge of their 'core' courses with the dual advantage of gaining teaching skills and being certified as educationists, a condition, which even the National Universities Commission (NUC) is stipulating for employment as lecturers now.
The ex-commissioner also dismissed the issue of under-funding, which he noted was not peculiar to TASUED but a reflection of a general syndrome, afflicting most state and federal universities. According to him, none of the state universities would stand if TASUED, which is currently rated as number one in the country, is ranked inferior as the Amosun regime wants the world to believe. Excerpts:
The Ogun State Government recently attempted to scrap the TASUED, which your administration put in place.
How do you see that step?
I call it madness because there is no other way you can explain it, there is no other way you can look at it. The Tai Solarin University of Education is the first in Nigeria, second in Africa and number eight in the whole world. Now, the conception of that university is like buying two for the price of one. Again, if I take you back in time, the Tai Solarin University is an upgraded facility from the Tai Solarin College of Education. Before the OGD administration came in 2003, Segun Osoba, the former governor of Ogun State had made a law, empowering and authorising Tai Solarin College of Education to be awarding degrees in association with the Ondo State University. So, the College of Education was already awarding degrees. Now, when we came, there was this big demand for certificate education because by that time the NUC came out, cried out that Nigeria needed to produce 1,000 Ph.Ds every year and with people with certification in education.
Let's take Sociology for instance. I read the course, so, I have qualification in Sociology but I didn't have qualification in teaching. So, I have the core course but I don't have what we call pedagogical skills. Pedagogy is the teaching method. So, the NUC now said look, we need to correct this anomaly. Those who will be lecturers need to have degrees or certification, at least, in Education. Now, along that line, the curricular of secondary schools started to change because the emphasis now shifted from just when you graduate, you are looking for a white-collar job. You are looking for civil service job, you are looking for jobs in the bank.
The emphasis has now shifted to self- employment, that let us begin to teach our children right from the secondary schools practical courses, practical subjects that can afford them to be self-employed and even give employment to others. So, all of that changed in the education sector. So, we now saw the need to upgrade that College of Education to a full-fledged university.
We got the licence from the NUC and the concept, the very basis of that university, was okay; you are studying Economics but as you are reading Economics, you are also studying Education. So, you have competence in Economics as a core course and you also have knowledge of the teaching method, which is pedagogy. So, that is why I said, it is like you are taking two for the price of one. You have one degree but it is divided so that if you now have to go and lecture in the university, you already have pedagogical skills. So, that was the very basis of that university.
Now, what is the reason or what are the reasons given by the Ibikunle Amosun administration? One of them is that it is better to save cost because even the OOU (Olabisi Onabanjo University), they are having problem funding. They raised two issues -funding issue and then that the university had lost focus because they are offering even Petrol-chemical engineering, that the College of Education is supposed to be teaching strictly education courses. And of course, if you remember my explanation, you see that they actually didn't understand it because when you go back to the curriculum or the curricula of secondary schools in various states now, you see a lot of changes. They are now offering human management and other vocational studies. In any case, it is not the duty of the government to say that a particular course is not relevant. It is NUC's and as I speak with you, the NUC has come to that place twice and accredited all the courses.
So, what is the locus of a governor, saying the course that the university is offering is not relevant or is not necessary? So, the claim that they have lost focus, shows he didn't even understand the very conceptual basis of that university and that is number one. In terms of funding, the Ibikunle Amosun himself set up a visitation panel to that university before coming up with this decision and what did the visitation panel find? They found out that of all the structures that they have there, 40 per cent were donated by private individuals, Alex Onabanjo had half a million naira donated, Kessington Adebutu, Intercontinental Bank, so many, many people.
We find out that 40 per cent of all the physical structures they have there were donated by private individuals and another 40 per cent by the Educational Trust Fund or the Federal Government. Only 20 per cent was contributed by the government of Ogun State. And in terms of the recurrent expenditure, only 70 per cent comes from the government. Precisely N52.5 million every month. The remaining 30 per cent is sourced from the IGR of that university. So, when you are talking of funding, that is not an issue and then again you are talking of funding of a university that has been rated now to be the best state university in the country because the current rating of all the universities in Nigeria, puts Tai Solarin University of Education as the best in all state universities.
So, if you are going to score because of funding, that means that all others in other states must go. Funding is a very big issue in all universities. So, if you are talking of the funding, then only few universities, maybe only about two or three, will be able to survive. In fact, I don't even see anyone in this country that will be able to survive, that you can say okay, this particular state or government-owned university is well-funded, none will be able to stand. So, it is a flimsy excuse.
The politics of it is, of course, to rubbish everything or anything that you see OGD hands in. If you can scrap it, scrap it; if you can demolish it, demolish it. That is the real principle; it is really, very unfortunate because when you look at the combined capacity for admission of both Olabisi Onabanjo and Tai Solarin University of Education, it is still not up to 25 per cent of our people looking for university education, who are qualified, because, Olabisi Onabanjo admits 4,270 every year.
That is the quota granted to them by the NUC. Tai Solarin University of Education, 3,500. The combined capacities of the two still would not take up to 25 per cent of those who are qualified and are looking for admission into the universities in Ogun State. So, the government should be expanding opportunities not contracting them but Ibikunle Amosun has contracted and that is why everywhere, even his own party has condemned him. You know Senator Gbenga Kaka in the Senatorial district that the university was located has even taken the government to court. So, it is a very irrational, unpopular policy of government that you just cannot explain in any rational way.
The government is also reversing the return of missionary schools to their owners. How do you view that?
What happened was that, look, it happened in Lagos State – those missionary schools when they were in the hands of the missions and some of us went to these schools, we did very well but somehow along the line, the government took them over and they became decrepit, they became totally run down. I mean a very good example was the Tai Solarin Comprehensive High School, May Flower Comprehensive High School, known to be one of the best in this country.