What Does Your Handbag Say About You?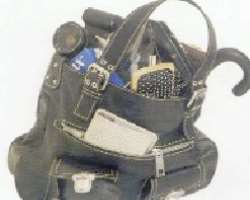 Women have an intimate connection to their handbag and many confess they would feel uncomfortable if someone they knew, including their partner or best friend, looked into their bag.
When it comes to the contents of handbags, women carry almost everything in their handbag! Naturally sensitive and down-to-earth, handbags include hair accessories, gum, perfume, trinkets or photos of family and friends, a book or magazine, makeup, medicines, receipts, wallet, calculator, pens, planner, glasses, emergency sewing kit, and a toothbrush.
Very familiar? You're not alone! Many women have handbags filled with "essentials" that they might need someday and others that they need every day!

Organisation is key
Get a handbag with more than one pocket/section. Keep personal grooming and well-being items in one section (your toothbrush, makeup, comb, medicines, mints, etc).
However, make sure that you have compact versions of these items to conserve space. For instance, get a travel toothbrush that folds in half. Carry only makeup that may be needed for touch-ups - your favourite powder, lipstick, blush (not 10 shades of eye shadow). Again, use travel sizes.

Regarding medicines, be realistic. Carry a pillbox with a few pain relievers.

Now, how to handle those other items? Your wallet does not need to house your entire financial history. In fact, it shouldn't, for security purposes. Your wallet should contain your license, health insurance card, your ATM/bank card and money.

Instead of keeping a planner in your bag, keep it in your car. That way, you can grab it before you go to a meeting, go in the house etc. If you don't need to schedule something and just need to remind yourself to pick up an item from the mall, perhaps keeping a very small spiral notebook in your handbag would help.
There aren't too many things in your handbag that you couldn't live without for a few hours. Chances are that someone would have some of whatever you're missing to borrow anyway.

Think about what is essential - handkerchief, money, keys, license, glasses. Put that stuff in your handbag first and then evaluate whatever is left in your pile.