2014 GUBER: MINISTER RECONCILES FAYOSE, ONI, OTHER PDP FACTIONS IN EKITI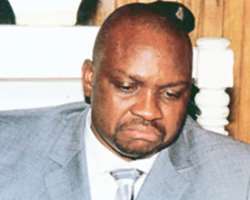 Fayose
Ahead of 2014 governorship election in Ekiti State, the Police Affairs Minister, Navy Captain Caleb Olubolade (Retd.) last weekend succeeded in reconciling former governor Olusegun Oni with his predecessor, Ayodele Fayose and other warring factional members of the Peoples Democratic Party (PDP) in the state.
The reconciliation was carried out in a closed door meeting, which he convened in his Ipoti-Ekiti country home at Ijero Ekiti Local Government Area of the state, barely 24 hours after holding a stakeholders meeting in Ado-Ekiti, the state capital.
The police minister had, at the Ado-Ekiti meeting lamented the state of roads and other infrastructure in the state, saying PDP had to do all it could to regain power in 2014.
He said: 'I will be ready to donate all I have to help this party. I promise that we will have enjoyable congress. We will give it whatever it will take. There is no party that is stronger than PDP in Nigeria.'
Speaking shortly after the meeting that lasted for few hours, Olubolade disclosed that all leaders of the party were present at the meeting and they all resolved that in all issues, there would be no imposition. That transparency would be the order of the day. And, that, where there were grey areas, they should be resolved in various localities.
He said: 'As you can see, all the leaders are here. And so, the followership will do the same. So, we are confident that working together in this manner will make our party to be victorious. And then, we have resolved that there will be no disagreement of any nature and that all things will go smoother than before now.'