Mo'Cheddah: Graduating where others are dropping out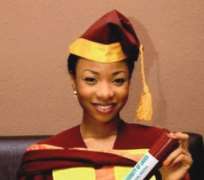 About a fortnight ago, up-and-coming rapper, Mo'Cheddah, graduated from the University of Lagos. She obtained a Bachelors degree in Creative Arts. Interestingly, it coincided with the time she disengaged from the services of her record label, KnightHouse, reportedly in "search of other opportunities".
Under the Knighthouse management, she had won the prestigious Channel O award for the Most Gifted Female Video. She was also named the MTV Brand New act in 2010. Curiously, the media feasted on the severed relationship between her and KnightHouse, downplaying her graduation from the university.
But with her graduation, Mo'Cheddah has launched herself into the class of Nigerian musicians – including Naeto C, who prides himself as the only MC with MSc – and Banky W, who successfully graduated from the university while pursuing their musical careers.
John Ogar, who represented Abuja, clinched the ultimate price of the season one of Naija Sings. He has a single titled, Gbedu, having won a recording contract with Storm 360. But he reportedly left for the US to study before charting a promising career path.
Their feats are worthy of note because it is a common practice to have young musicians drop out of school. Musicians such as Innocent 'Tuface' Idibia and Abolore '9ice'Akande dropped out of school at different times to fulfil their dreams. 9ice has however made his intention to go back to school known, as he reportedly intends to become a politician in a few years' time.
The most recent is Nigeria's fast-rising hip hop singer, Ayo 'Wizkid' Balogun, who came into the music scene in 2010. Wizkid made waves with his hit single – Holla at Your Boy. Surprisingly,
He dropped a bombshell when, in an interview last year, he said he had left school to concentrate on his music career. He was said to be a 200 level student at Lead City University, Ibadan before he ventured into music.
If Wizkid's decision was a bombshell, then the case of 2010 MTN Project Fame winner, Chidinma Ekile, can be described as shocking. The Jankoliko singer was reportedly writing her post-UME when the opportunity of going to the show came. Chidinma abandoned her education for the show. Although she is doing well, many people wonder if she would still find a space for her unfinished education in her busy career.
While some of these artistes have been largely successful in their pursuit, and it could be argued that their leaving school has not in any way affected their success, it may also be profitable to ponder what the future holds for the country if every youth shows preference for their talent.