KOGA acquires N40m Alexa camera for African market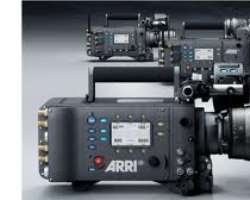 Picking up from where they left off last year, emerging entertainment powerhouse, KOGA Entertainment has now made a big statement in the industry by acquiring the latest technology in the movie production world, the Arri Alexa camera which cost over N40, 000, 000 (FOURTY Million Naira) with its apparatus.
Now in the second year of doing business in the country, KOGA has upped the ante by way of acquiring the Alexa which is aimed at developing the entertainment industry, music and movie production alike.
The camera and its apparatus are known for its top notch cinematic image quality with efficient workflows, which are the main reasons the camera has been adopted quickly in the movie industry worldwide, including Hollywood. The camera's unique features and great flexibility have seen it shine not only on major 2D and 3D feature films, but everything from international television series, commercials and soap operas to music videos and documentaries. Some of the movies shot with the Alexa are; World War Z, Life of Pi, Gangster Squad, Gambit among others.
With hundreds of cameras in the same field as the Arri Alexa, the camera is receiving an enormous amount of positive feedback from customers worldwide, hence the reason KOGA Entertainment acquired this gadget in the first place as customer satisfaction is key within the business circuit. Other cameras at the disposal of KOGA include the Sony EX3, PMW F3, 270E, Z7 among others. The one stop entertainment outfit also boasts of an event hall for events, studio (for audio and visual production) and a lounge. Several artistes have patronized the digital and visual studio of KOGA, the likes of Eldee, 2face, Dbanj, Mocheddah, P Square and others. Dbanj and 2face also shot the video of their highly expected collaboration there with Alexa camera. Niyi Akanji has used the visual facility for the production of his movie. Corporate organizations such as GLO, MTN, So Klin have also shot commercials using the KOGA facilities.
Speaking on the Arri Alexa, an official of KOGA, Anu Awoseyi says ''In everything you do in business, there is need for you to always strive to have that competitive edge in all that you do as it will definitely stand you out among the committee of companies, hence the need why we acquired the Arri Alexa''.
''The Alexa is not the only pride within the company; our MCR is second to none in the whole of Nigeria. We have the DaVinci Resolute 8; Mac based Avid Suite, voice booth and whole lot equipmenst for quality post production works''.
Reiterating the stand of the CEO of the company, Mr. Chris Jeyibo, Anu insists that ''our industry can meet and surpass international standards, all that is needed is the willingness of the stakeholders to go the extra mile, that extra mile is the reason we are in business''.