BETWEEN CLARION CHUKWURA AND SUSAN PETERS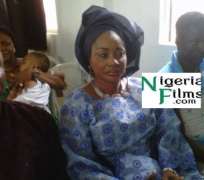 Although there are no clear indications that these actresses are having severe quarrel,they might not be very good friends as disclosed in this latest news.
Going by the information reaching our desk,actress Susan Peters is no longer in the good books of star actress Clarion Chukwura.This is because,Ms. Chukwura who has maintained the status of being a no-nonsense lady detested the dark skin actress' snub attitude towards her on Sunday,February 5,2012 at veteran actress Eucharia Anunobi's ordination ceremony.
According to the source,while at the church,Ms. Peters allegedly developed a superiority complex and ignored the elderly actress who was sitting close to her and refused to utter any word inform of salutation to her.
Though it was said that they do not have any records of close connection in the past,light skin Mrs. Chukwura who thought that she merited pleasantries from Ms. Peters who is far younger felt so bad about the sudden development that she complained to her close friends and maintained that she does not understand the reason behind Susan's actions.

Susan Peters at the ordination