EXCLUSIVE: Nadia Husband Snatching Saga; Steph Norah Is Not Joseph Penawou's First Wife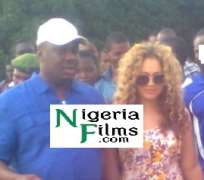 The battle of the ownership of top Delta State politician and oil mogul, Chief Joseph Penawou is getting heat as time passes.
The latest of tug of war between the two elephants involved, Steph-Nora, an ex Miss Delta Soap queen and Nadia Buari, a top Ghanaian actress, seems to have taken a new twist.
According to information exclusively gathered by Nollywoodgists.com from an insider, we learnt that Steph-Nora is not the first wife of Chief Joseph.
We were reliably informed that Chief's first wife, Maria, lives in Lagos. She is said to be running a travel agency firm in Lagos.
We learnt that Norah got mad at the whole issue because Chief Joseph shifted attention away from her to Nadia.
What fuelled the whole issue, as we gathered, was that Chief Joseph opened his new house in Port Harcourt in November last year with Nadia by his side and not Steph-Nora.
Steph was reportedly informed ab
Our source said, "Nora is just jealous and aggressive. She is not like the first wife, Maria, who is peaceful."
According to further information gathered, Maria is busy with her work in Lagos and does not bother herself with if her husband is seeing another woman. It was also also gathered that Maria did not raise an eyebrow when Chief Joseph married Steph, who now has three kids for him.
We learnt that it was Maria that was with Chief in his Akugbene country home during the last Christmas and New Year celebration.