GOD WILL RESTRUCTURE NIGERIA AND NIGERIANS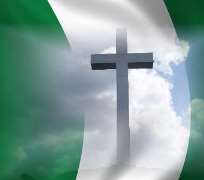 "See to it that you obey God, the One who is speaking to you. For if the people of Israel did not escape when they refused to listen to Moses, the earthly messenger, how terrible our danger if we reject the One who speaks to us from heaven! When God spoke from Mount Sinai his voice shook the earth, but he makes another promise: "Once again I will shake not only the earth but the heavens also". This means that the things on earth will be shaken so that only eternal things will be left since we are receiving a Kingdom that cannot be destroyed, let us be thankful and please God by worshiping him with Holy fear and awe. For our God is a consuming fire" (Heb. 12:25-29, NLB). Nigeria and Nigerians shall be restructured. Why? Nigeria, a country with many and diverse nationalities has been mismanaged and out of tune with God's plan. Nigeria and Nigerians has refused to listen to God speaking. What is the problem with Nigeria and Nigerians? Sin! The Nigeria nation has deviated from the plan of God who put the different nationalities together. God has a purpose to situate different people and nationalities and located certain resources in their domain. It is not an accident that the Niger Delta area is rich with crude oil that produces 98% of the wealth of this nation.
The Government of Nigeria over the years and the people of this great nation has lived and operated as if God does not exit. Past and present leaders have refused to restructure this nation to fit into God's plan for further prosperity and wellbeing of every segment of our nation. Our leaders have been oppressive. They have marginalized every sector of our society. They have created dichotomy of rich and the poor. The rich become richer and the poor become poorer. Different tiers of government are administered to serve personal interest. The structure of administration in Nigeria is tilted towards favoring a sector or some ethnic group.
Census figures are inflated in the north and more local governments and states in the north and so make representation at the National Assembly lopsided and deprived the south another ethnic nationalities equal representation. Because of this defective structure, states and areas that are generating the wealth of this nation are deprived of controlling their God-given resources. Because of bad and defective fiscal federalism in operation, the minority ethnic groups are deprived from political control or rulership of this nation. Check the command of the Police, Navy, Army, Airforce and other para-military organizations. They are all structured in favour of certain ethnic groups. For the first time that we have a minority as President of the Country from the south south geopolitical zone, we see the conspiracies among the security agencies and the Islamic jihadists alias Boko Haram throwing bombs, killing and maiming innocent South Christians and non Muslims resident in the northern Nigeria.
There is no true Federalism in Nigeria. Even President and our representatives in the National Assembly are not doing much about the injustice of this defective structure. Our leaders are deaf to the yearnings and aspiration of the downtrodden. They politick with the welfare of our people. They trade with their goodwill and patience. Something is wrong with the structure of our government and with the operators of the system, hence, no matter the ethnic group the President comes from until the Nation Nigeria and Nigerians are restructured, it will be futile effort to move this nation forward. We import everything from outside to look better. We are worse for it. We even import clergyman – Rev. Benny Hinn from United States of America to restructure or pray that Nigeria to be bettered under former President Obasanjo. Has our Presidents listened to our 'Moses" – Christian leaders who advice them that they should restructure the polity? God will not lead Nigeria out of her Egypt by an outsider. If the President, leaders of government and the people of Nigeria refused to listen to the prophets, Apostles, Bishops and Pastors in her midst, it will be futile effort to import Rev. Benny Hinn from America to pray before our leaders can leave corruptions, cheating in high places, marginalization and oppressive polices that are being heaped on Nigerians.
Wind of change is coming. Nigeria and Nigerians shall be restructured; God will restructure every sector, person, leader and ethnic group in Nigeria. Without restructuring Sovereign National conference will not work. God will restructure Nigeria and Nigerians, not as we advocate physically but eternal restructuring that begins with changes in the hearts of the people of every ethnic group. Unless people are changed inside out, no policy or structure physically can help us to be better. God is about doing a new thing in Nigeria (See Isa. 43:18-19). God will remove the present structure that has enthroned corruption, communal conflict, assassination of political opponents and marginalization of some sectors of our society for a new heaven and earth (See Rev. 21-22). The heart of stone (stubborn, deceitful government, deaf leaders) shall be replaced with a heart of flesh (sensitive, responsive and dedicated leaders) that are God fearing (Ezek. 36.25-27).
God is going to transform His people by the word of God prayer, and the Spirit of God. God is going to pour out His Spirit afresh on all flesh. New waves of spiritual awakening will come upon the Nigeria nation. Oppressive leaders and structure, system will not continue forever. God will shake this nation, what we depend on will fail us. If we continue to refuse God's servants speaking to us, we shall face God's wrath. God is a consuming fire. Our leaders should listen to God speaking by His servants. Address the inequalities and injustices in different sectors of our society. Our leaders should convocate sovereign national conference that will restructure every sector of our polity. Boko Haram insurgent is just one of the ways God has allowed Nigeria and Nigerians, government and the governed to be judged at this face of her existence. Boko Haram insurgent shall exposed how we are being deceived the Nigeria is one nation. We are many incompatible nations forced to be one entity called Nigeria.
To be the nation of God, we got to repent and seek God with fear – departing from iniquities, living as if God does not exist.(Ps. 33:10-11). Things got to change for the better, unless we change, the Bible say we perish (see Lk. 13:3). Present reforms will only lead to more borrowing from the World Bank and dependence on Western induced policies without impacting on our people positively. That is slavery. The President must repent. All political leaders must repent. Our National Assembly members must repent. Our military – the Army, Navy, Police and Airforce must repent, seek God's plan to bring about meaningful development and changes that can transform the inner man. Until our hearts of sin, deceitfulness, corruption and hatred is transformed – born again, become new creation (See 2 Cor. 5:17, Tit. 1:5-7), efforts to change our outside world (physical world) will be exercise in futility. That is why our Refineries can't work. That is why PHCN is epileptic in her operations. That is why politicians lie so much and cannot fulfill their electoral promises to the electorates. That is why the President is helpless he can's have the courage to deal with the culprits, cabals and cartel in the oil and gas industry, the military and Boko Haram insurgence.
Do we want a change that will better Nigeria? We must all repent. Be responsive to God's speaking. God has spoken through His son Jesus Christ. If we hearken to his voice to repent of our sinful ways and turn to God in faith in Jesus Christ. Jesus Christ will come into our lives to restructure – change our inner man – the old man to new man (See Eph. 4:23-24). Empowered by the indwelling Christ and the Holy Spirit, the fear of God will enable us to do the right thing, correct the wrongs among us and God will help this nation – every sector to develop without the present evil. Until we restructure individually, personally and collectively as a nation and a people, our reforms and attempts to govern well will fail. It is only when a people and a nation yields the control of their lives and administrations to the government, the rule of God (God's kingdom) that they could rule well and be able to provide democracy's dividends. May the Lord grant to Nigeria and Nigerians the will to restructure and worship God Almighty for the development of all. Have question, you may call: 08033399821 or write: [email protected] Stay blessed.
*** Dr. Lewis Akpogena, a Christian Devotional Writer/Minister, Educationist and Consultant writes from Port Harcourt, Rivers State.
Disclaimer:

"The views/contents expressed in this article are the sole responsibility of

thewillnigeria.com

and do not necessarily reflect those of The Nigerian Voice. The Nigerian Voice will not be responsible or liable for any inaccurate or incorrect statements contained in this article."
Articles by thewillnigeria.com