UNCOVERED: GOV. BABATUNDE FASHOLA LED GOVERNMENT REWARDS ASIWAJU TINUBU N5 BILLION MANSION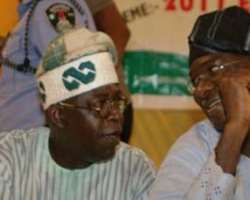 Former Lagos State Governor,Asiwaju Bola Tinubu is inching to ownership of another exquisite mansion in Ikoyi,Lagos.This is courtesy of an ultra modern new abode being put in place for him in that part of the divide.
We gathered that the Lagos political godfather is being rewarded by the Governor Babatunde Raji Fashola led government with a state-of-the-art mansion which is already being constructed on No.4 Oyinkan Abayomi Drive(formerly Queeens Drive,Ikoyi,Lagos).
Checks revealed that the two-term governor of Lagos State will be moving into this palatial abode from his Bourdillon,Ikoyi Lagos home after completion.Already,the contract has been awarded to a foreign civil engineering firm,Dori Limited.
According to insider,a whopping N5 billion and over has been budgeted for the completion of the house which shares border with the British Consular office in Ikoyi.
Information gathered has it that the new place was once occupied by Lagos State government officials.The building was demolished and the structure for the one-time Senator of the Federal Republic is taking shape.
The construction company in-charge has already started work on the project.
The design is said to be drawn by an Italian architect.And it has a large parking space,recreation centre and IT house.
The Asiwaju abode lies in the centre of the premises and it's said to be seven large bedroom affair with one central living room with all the good things of life.
We called Tinubu's media aide,Kunle Abimbola and this is what he told us: You people with gossip.Why can't you ask the Asiwaju himself about it?Anyway,he has a right to good living.The said mansion is not within my knowledge,I am not aware of it.And please don't call me for such a thing again.Is that clear?
click the link below to go to...
GOV.FASHOLA,ASIWAJU BOLA AHMED TINUBU GET N600 MILLION BULLET PROOF JEEPS.
HOW GOV. FASHOLA AND TINUBU PLANS TO DESTROY LAGOS HERITAGE + POLICE SHOOT TOLL GATES PROTESTERS.