IBORI! BETRAYED AND ABANDONED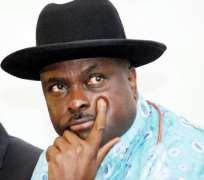 "Fear not your enemies, for they can only kill you. Fear your friends, for they can betray and kill you". If ever you have been betrayed by a close friend especially by someone you trusted and with whom you shared happy times, you will understand what runs in the mind of a man that feels put down or abandoned by his friends. It's natural to be betrayed by someone who doesn't like you, but to be betrayed by a person you thought was a loyal friend is very hard to handle. The pain and grief is even magnified when a friend or close family member turns against you and proves to be untrustworthy or unfaithful. Negative friends are not always that easy to spot because most friends only turn into betrayers because of your life changing circumstances. Indeed, there is no crystal ball to predict that a particular friend or sibling will turn out to be unreliable. The man in this picture is James Onanefe Ibori, for emphasis, 'original' James Ibori and not the one involved in the infamous Abuja High court trial of roofing sheets theft. This James Ibori has been incarcerated in a British gulag for many months on charges related to money laundering.
Recently, a close ally of James Ibori who visited him in prison in London confided in ZN by stating that the former governor is not only broken hearted but mentally slaughtered for being so naive and trustworthy to his friends. According to his acquaintance, you could feel the pains inside him because everything has changed for the worst. Ibori is beginning to believe that he was emotionally duped by friends and benefactors.
About three years, he was so powerful being a very close associate of Nigeria's late President Yar'adua and mentor of many politicians in Delta State including the present Delta State Governor, Dr. Emmanuel Uduaghan. As a former Governor of Delta State for eight years, Ibori amassed tremendous wealth and stole the State treasury dry. Ibori did not only steal our money, he stole the mandate of the Delta State people with impunity, shared political positions to his friends, made his cousin, State Governor and his friends top political office holders. Many people claim he won President Yar'adua's heart by using his loot to finance the Presidential elections that ushered in Yar'adua and Goodluck Jonathan as President and Vice President respectively. Ibori was generous with almost everything, his wealth, manhood, emotions etc. He was worshiped by many because he was good at dividing his loot. Suddenly, his army of twisty friends became uncountable because he was bighearted to a fault. Even a gross section of the corrupt media that have abandoned him today celebrated him while in power not because he was doing a good job as Governor of Delta state but the pressmen were beneficiaries of his stolen wealth. Everything seemed okay until the death of President Yar'adua and the imposition of Emmanuel Uduaghan as Governor. As they say; the rest is now history.
Ibori was not an enemy of ZN but his friends made him believe that ZN was carrying out a mercenary motive that was sponsored by his political opponents. ZN in its many publications called Ibori a thief, yet, Ibori never tempered with ZN's liberty of speech but his cronies like Peter Nwaoboshi, the distressed Delta State PDP Chairman, wanted ZN publisher dead. With the use of the State's instrument of brutality, Nwaoboshi connived with the State police and a rotten egg in the Delta State Judiciary, a then Magistrate at Ibusa court, Magistrate Dike to get ZN detained at Ogwashi-Ukwu prisons for months without end. Today, Ibori is languishing in a British Jail with little hope of early release; his many friends including infamous Nwaboshi who became an overnight billionaire at the instance of Ibori political compromise have disappeared into thin air.
Ibori was a magnanimous man and he remains Ali Baba of our times but his betrayal by friends and associates will stay with him for a long time. In prison, Ibori must be thinking to himself and asking why he was so blind about friendship. He may even question his many bad judgements including bad governance, his support to Peter Nwaoboshi as State PDP Chairman, his quarrel with Chief E.K Clark over the imposition of his cousin, Emmanuel Uduaghan as State governor. Also, he may even question his life and all the people in it. The betrayal by his friends will haunt him in his dreams and mind.
Sometimes you need to consider what your friend is really like within the contexts of all the behaviours. Some of Ibori's then friends like Nwaoboshi, the on the run accused murderer not only abandoned him but may have moved ahead to provide information that would worsen his case. The story of Ibori are life lessons because all his friends have suddenly gone mute over his incarceration, even the State Governor, Dr Emmanuel Uduaghan was recently petitioned by an Ibori support group for allegedly instructing the Delta State police command to refuse them permission to hold a public gathering in Warri. The likes of Amori, Emma Ogidi, Ifeanyi Okowa, Nkem Okwuofu, Adaora Giwa Amu, Ovie Omo Agege, Funkekeme Solomon, Festus Agas, Enakugharugha, Chief Akpobi, Festus Okobor, Love Ojakovo. Dr Alex Ideh, Victor Ochei, Uche Okpuno, Willy Oki, Nat Okechukwu, Uzoma Idabor, Tony Nwaka, Grace Ekpewhrwre, Pius Ewerido, Champion Kpategie, Terry Naoh, Chief Bozimo, David Edevie, Elue Benjamin, Pius Senebe, Solomon Ogba, Magnus Onyeibe, Macualy Ovuozere, James manager. Patrick Osakwe, Prof BIC Ijeoma, Evo Gardner and other uncountable number of politicians and traditional rulers who fed fat on Ibori have not spoken a word. ZN believes that this is more of cowardice and betrayal because even in less civilized societies, men of good conscience and strong character sustain their support to friends in difficult times. Indeed, all over the world even people that commit heinous crimes draw large sympathetic support from the public whether or not they feel that justice is being upturned on its head.
On Ibori, ZN forewarned him over his excesses and impunity but he refused to be forearmed. Despite many insinuations that ZN has personal grudges against Ibori and Uduaghan, we make bold to state that these are mere figments of people's imagination. ZN will always be ruled by the aspirations of the people of Delta state in their quest for good governance. As a demonstration of our focused principle on truth and objectivity, we use this narrative on James Ibori and twisty friendship to join the few voices like Faith Majemite and company, Ibori's associates that recently broke the ice on Ibori's situation by discovering courage and boldness in calling for Ibori's deportation to Nigeria for trial.
For avoidance of doubt, ZN is not and does not intend to hold any brief for Ibori but we query the conscience of his many friends he enriched or empowered with our stolen wealth. ZN's position is that the accounting books of Delta State must be thoroughly examined by officials of the EFFC that would not compromise to bribery. It is only when the extent of stolen fund from Delta State treasury is ascertained that the British trial will make sense because in the present situation, it makes no sense putting a man on trial in a foreign court whereas the evidence on source of theft is lacking. The era of British colonization is over and the colonization of the Nigerian Judiciary is unacceptable. Ibori stole our commonwealth not the British, as such he should serve his jail term in Nigeria. It is only when a prima facie case of theft has been duly established against Ibori that Deltans can demand for the return of their stolen wealth in Britain in a very transparent manner for the development of specific projects under the purview of the Federal Government. Perhaps, if Ibori serves in Warri or Ogwashi ukwu prisons, he would use part of his loot to rehabilitate the prisons for his comfort and that of other prisoners. The present administration of Uduaghan must draw lessons from Ibori's saga rather than complain over ZN's objective criticisms that would have helped him improve his government. ZN has forewarned Governor Uduaghan in his lack of transparency in running the affairs of the state, perhaps when the chips are down, it may just be one or two persons that will stand by him as they have all done to Ibori. Presently, James Ibori will remain a big and practical lesson for the nature of modern day friendship in Nigeria. Indeed, whenever, the history of James Ibori is written, what will be most prominent will be the chapters of deceit & deception & trust on friendship. It is very certain that Ibori through the years will cry his tears and it is natural that without help from his friends he will face fears of loneliness in prison but the simple lesson is that through his tears and likely years in prison he would know the meaning of true friendship. Real men stand by their man whether in good or bad times. ZN will continue to stand by the truth no matter whose ox is gored.
** Comrade Chris Obiemenyego, Editor in Chief, ZION Nationale newspapers, Abuja
Disclaimer:

"The views/contents expressed in this article are the sole responsibility of

thewillnigeria.com

and do not necessarily reflect those of The Nigerian Voice. The Nigerian Voice will not be responsible or liable for any inaccurate or incorrect statements contained in this article."
Articles by thewillnigeria.com