Why my uncle is crazy for Village Headmaster–Bollywood actress, Masumeh Makhija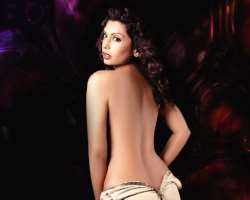 Bollywood actress, Masumeh Makhija
Masumeh Makhija, also known as Masumi Makhija is a Bollywood actress that started her journey to stardom as a child and has grown over the years. Born in Canada in 1984, the actress who caught the fancy of movie fans with her in debut film, Chupke Se, and the critically acclaimed Maqbool has also featured in a German movie, Gate to Heaven. In this interview with Atim Ikpeme, the Bollywood star, at the recently concluded ION International Film Festival in Port Harcourt, Rivers State, disclosed that her grandfather and uncle were the ones that distributed Indian films in Nigeria, among other things. Excerpts:
How has your visit to Nigeria been?

It's my first time in Nigeria but I had heard lots and lots of stories about Nigeria from my grandfather actually. And that was one of the reasons I seized this opportunity to come to Nigeria, I wanted to come see first hand after all I had heard about Nigeria and even Nairobi, capital of Kenya.
My grandfather was in Africa because he was responsible for distributing Bollywood films in Nigeria and Nairobi. His son, my uncle along with him, set up a film distribution network in the 70's. Since I came here, I have interacted with the people and they have been everything that is sweet, welcoming, and helpful and I am having fun.
How did they come to Africa?

My grandfather, Pren Makhijah and his son, my uncle Gul Makhijah, actually had their offices in Lagos. They had to leave in the late 70's when everything was not going so well but until then all the Bollywood films that came to Africa was through them.
Have you always wanted to be an actress?

Yes, it is something I have always wanted. My grandfather was in the movies so it was like a background for me. He was a distributor and then they later became producers but I am the first actress in my family. My mum had discovered that I was going to be an actress the day I took her most expensive sari (Indian traditional attire) and started dancing the way I saw the stars dancing on T.V.
How long have you been in Bollywood?
I started as a child actor doing advertising. Then I got to stage and after that I started featuring in films about five years ago.
It used to be a taboo seeing men and women kiss in Indian movies years ago but now it seems like a norm, why?

I think it is as a result of what Bollywood is also trying to do to bridge the gap and make people be aware of us and our presence. Bollywood decided to let Hollywood feel our presence and as such some of Hollywood influences have become part of our movies. People change; times change and this was one of the changes that came with that decision.
But is the change in line with Indian culture that frowns at promiscuity?

It's not promoting promiscuity, it's just kissing scenes and it is the kind of films made not to promote promiscuity. The kissing is just a way of showing that two people loved each other and that is what matters.
Have you ever watched any Nollywood films?
Unfortunately, I have not watched Nollywood movies and that is one of the things I intend to do while in Nigeria. My uncle asked me to get him a series that he used to watch when he and my grandfather were in Nigeria, The Village Headmaster. And I hope I can get it and take it back to him. But I have heard about Nollywood from what my grandfather told me and other stories.
Stories about Nigeria

I heard a lot of things about Nigeria. I heard about how unsafe Nigeria was and that I should be careful. I was told I was a Cinderella going to a strange land but I beg to differ from what have heard because it's been great since I came.
Nigerians are very nice people, Nigeria seems like a city that wants to start creating, that has been under lock for long and wants to burst open and create; that is the feeling I get. I am happy that I can be a part of it in some way and can also understand why my grandfather loved Nigeria so much.
Will you do a Nollywood movie if contacted?

Yes, I will, but it will depend on the script, which is the same thing for me in Bollywood. I don't think the language bothers me, it's the script that I am interested in. I will like a story that will move me from the heart. If Nollywood has a movie like that then I will love to be part of it.
Story by www.nollywoodgists.com