DO SOMETHING…USING DRAMA TO CHECK CHILD ABUSE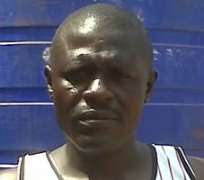 • Barabara
The shooting of Do Something, a regular television drama series, otherwise described as a 'movie for development' that hot afternoon at the popular Abakpa area of Enugu caught everyone's attention.
The soap opera, which aims at providing entertainment for viewers as well as educate and sensitise the people on key health issues has become a 'must watch' for many homes in Edo, Enugu, Benue, Rivers, Cross River State and Akwa Ibom states where the programme is currently being aired.
Mr. Newton Barabara, Executive Director of Double Barrel Theatre Productions who is handling Do Something explained that the drama is a TV series with 52 episodes; out of which 27 have been shot. His words ' We have already done 21 to 26 and the title of the drama is Do Something. The objective of the series is to highlight key health issues that have to do with child protection, women empowerment as well as women protection.'
Barabara noted that basically the issues in the story revolve around child trafficking, child abuse, child battering, importance of antenatal for women among others.
The drama also teaches how to use insecticide treated nets, the importance of sleeping under the net to prevent malaria, the importance of exclusive breast feeding and the importance of immunization.
'So the entire story is built around these key issues to help the family develop better; help the woman give birth to healthy children; and help children to go to school instead of hawking from street to street, said the producer.
According 'UNICEF is sponsoring the soap in collaboration with Double Barrel Theatre Production. The shooting is done in Enugu and it is being aired in about seven television stations in the Eastern part of the country. Some of the stations include, NTA Benin, NTA Enugu, NTA Benue, RSTV Port Harcourt, Cross River State Broadcasting Service, Akwa Ibom, and Orient Television.
Explaining the impact of the TV drama, Barabara said 'Someone sent a text message to say 'thank God; that for the first time in my life I have come to know something about iodized salt and the importance of using it to cook which helps a pregnant woman to be healthy. We also have a lot of response from the public about the programmed called Do Something; its highly educational and entertaining.'
The producer/director who equally acts the role of Gaga; hinted that Gaga is a character who doesn't really have a mind of his own. His words 'He is a comic character; he has a dream of travelling abroad; he also dreams of becoming somebody big and wonderful without working hard. You can see him in the story trying to make things work for himself but always falling into the hands of dupes. At last he finds out that he has been cheated.
In two of the episodes Gaga is involved in HIV/AIDS issues. His girlfriend dies of AIDS so he believes that he too has contacted the disease, while his neighbours avoid him. But when he goes for voluntary HIV test, he finds out that the result is negative.
Also sharing his experience in the TV drama productions, veteran actor and Nollywood star Fabian Adibe, who plays the role of Pa Johnson disclosed that the entire package called Do Something is a production that preaches safety for the children.'We are touching on almost all aspects of child abuse and neglect. We also work against killer diseases, so that children don't die. Explained Adibe who added
'Because Nigeria appears to have the greatest child mortality rate in Africa, and UNICEF is doing a wonderful job to see that this number is reduced so that we don't have all our kids dying. We also have to let people know that cleanliness, like they say is next to Godliness; these are all the things we touch, particularly as they affect UNICEF but when it comes to the platform we are using, we have drama, fun among others. On the setting of the TV drama, Adibe noted 'Everything is happening in one face-me, I face-you yard; once in a while we go to the streets, or the hospital but the bulk of the whole action is in a 'face-me, I face-you' yard and we have very wonderful characters that Barabara developed to tell our story.
'I play Pa Johnson, who is the landlord of this face-me, I face-you place; a man who had his bad past and has been trying to live it out quietly in a place but like we say, your bad past will eventually catch-up with you. Pa Johnson had something he did sometimes, it affected him so much that, one, you will never hear about his wife, in all the 52 episodes you will never see Pa Johnson's wife, you will never hear about his children but he has a house which he built through his timber business and made his money.
The Nollywood star actor expressed satisfaction with the impact of the series so far. He noted that from the feedback being received, people are relating with some of our characters, 'and I think it's a good thing because we are bringing out all the things that we come across in our daily life.'