Medical Professionals To Join Strike Over Subsidy Withdrawal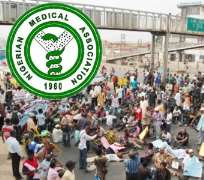 SAN FRANCISCO, January 04, (THEWILL) - The Nigeria Medical Association (NMA), Africa's largest body of physicians, has said it will join millions of Nigerians to protest government's subsidy removal policy.
A statement Wednesday from the association jointly signed by its leadership said government must first curb its wastefulness, repair the four refineries and tackle the monumental corruption in the petroleum sector before embarking on subsidy removal.
The statement from the over 35, 000-member professional body reads: "We in the NMA will join the millions of Nigerians to resist this evil. As a professional association, we cannot shy away from our professional dictates and responsibility to our clients, patients and the good citizens of this country. The NMA has the responsibility to stand with, by and behind the Nigerian people in genuine demands.
"Government should in the first instance curb its wastes, make the refineries functional and ensure accountability with a verifiable audit in petroleum sectors, tackle monumental corruption in the downstream sector of Oil and Gas operations and other sectors of the economy, stop frivolous foreign trips, use the savings from these to begin to address the palliatives in the subsidy reinvestment empowerment programme. It should also provide support for private health sector and genuinely encourage public- private partnership in health and other sectors as palliatives.
"It should now be clear to the government that the benefit of the so-called subsidy on petrol cuts across all strata of the population and impart directly more on the downtrodden.
"Government should reverse this action thereby preventing avoidable stress and strain on the good people of this country."